Olympic Gold Medalist Inspires Miami Swimmers
On Friday September 20th, 2013, a few Gables students who are members of the Miami Swimming team had the wonderful opportunity to meet three time Olympic gold medalist Matt Grevers.
Matt Grevers was an NCAA champion in college and is on the United States national team for swimming as one of the fastest backstrokers in the world. You can only imagine the excitement the young swimmers felt when they found out they would get to meet and train with the esteemed Olympian.
"I was excited. Not so much because I would be able to say I met an Olympian, but because sometimes it takes someone who has been there and knows what it is all about to get us all motivated on another level. We were able to come together collectively because of the once and a lifetime opportunity we were getting," senior Javier Fernandez said.
Matt Grevers not only swims backstroke, but rigorously studies it to improve his performance in order to find ways to perfect his swimming. Grevers was able to share different techniques he learned from others about swimming and gave advice on how to make the smallest corrections that would ultimately lead to a better performance.
"He convinced me to think a lot more about the little things in swimming, like a body position and keeping my abs tighter than I normally do," junior Hanna Payne said.
Grevers also told the swimmers amazing stories about his journeys in swimming throughout his life. He talked about his moments as a swimmer in high school and struggling to compete in the State Championships. His stories inspired every member on the swim team and left them thinking about their own future journeys.
"Just his presence there was inspiring. The stories he told made it easy to relate to him; like he's a normal guy who just happens to be exceptional at something,"  Maya Iskandarani said.
One of Grevers' most inspiring stories was about swimming in college. Grevers talked about  the many advantagesthat  college athletes have, such as being able to pick your classes earlier than others, which helped the students think about the opportunities they would have if they continued to swim past high school.
"I have to see where I get in and what my schedule looks like, but given the opportunity and time I think swimming in college would be a good experience for me," one of the swimmers present for the Olympian's visit,  junior Mariah Rappazzo said.
Overall, meeting Matt Grevers was great for the swimmers,who were inspired by his presentation and advice.  Swimmers will  be able to take this information and apply it to their performances in order to potentially get better. According to the swimmers, Matt Grevers not only helped them physically by helping them with their strokes, but he also helped strengthen their mentality. Grevers taught them that they must have a good mind set from within. Grevers also explained to the swimmers that winning isn't the most important thing in the world. He told them that they can have a spectacular swim and still lose, but to know that you did good is what matters.
"His stories were very inspiring. They taught me that it doesn't take a gold medal to know you've done a good job, and as long as you do your best and try your hardest, you will get a non-material reward," junior Jesitt Perez said.
Overall, the visit by Matt Grevers was very much appreciated by the swimmers. The visit could not have been possible without the help of Andy di Angulo, the head coach for Miami Swimming, who brought the Olympian over for the presentation. Although the meeting did not last long, it was clear that the words told by Matt Grevers had a long-lasting effect on the swimmers who were able to meet him.
About the Contributor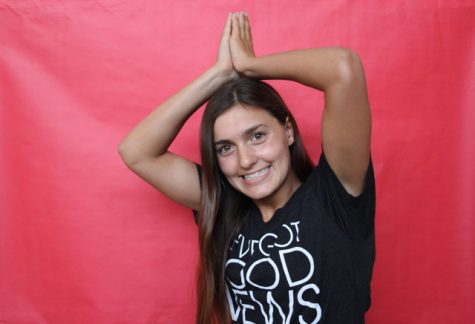 Hannah Cordes, Staff Writer
Hannah Cordes is a sporty IB senior in CavsConnect that loves everything there is to love about Gables. Whether it is dressing up for a pep rally or going...