Athletes of the Week: Cavan Wilson and Benito Saldivar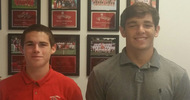 This week's athletes of the week are junior Cavan Wilson and junior Benito Saldivar. Wilson finished first in the District cross country tournament, leading the Cavaliers to the overall boys' District championship. Also, Wilson and his teammates qualified for the cross country state championships in Tallahassee on Saturday, Nov. 5. Saldivar had seven total tackles, three sacks, one forced fumble and one fumble recovery in the Cavaliers' romp over the Miami Beach High Tides 54-0.
To read up more on Cavan Wilson, click here. CavsConnect interviewed Saldivar to find out more about his dedication to football.
Q: State your name, grade level, and academy.
A: Benito Saldivar, I am in the eleventh grade and I am in the NAF academy.
Q: What position do you play?
A: I play middle and outside linebacker.
Q: Why did you start playing football?
A: I just want to play because I started playing when I was really young so it is just something I wanted to do.
Q: Do you have a pre-game ritual?
A: Take a nap.
Q: How were you feeling during the game against Miami Beach?
A: During the game I just felt like I had to step up because we were missing somebody, so I just played like that.
Q: Do you have any goals for the rest of the season?
A: For the rest of the season one of my goals and the team's goal is to just go 1-0 every week.
Q:Do you want to continue playing football after high school?
A: If I can get a scholarship I would love to play after high school.
Q: What is something you would say to a freshmen that is thinking of joining a sport?
A: To a freshmen joining a sport, I would tell them to go all in, and not just put half. If you are gonna do something go all the way – don't just do half of it. Put the work that you need to put in.
Make sure to wish the athletes good luck in the rest of their season and year.