The Griswolds and Walk the Moon
Our Rating: A
On Monday April 27, fans eagerly waited outside of Revolution Live to see The Griswolds and Walk the Moon perform. The fans were excited and came wearing band t-shirts, face paint and even holding posters. Some arrived at 12 pm.
The venue, Revolution Live, is located in Ft. Lauderdale across the street from the Museum of Discovery and Science. It is small and can accommodate a maximum capacity of 1,300 people between its main floor, second floor, VIP area, and outside balconies. Because of its size, fans are able to see the artist and hear the music perfectly from any spot in the venue.
At 8 pm, the opening act, The Griswolds, came out on stage. The crowd cheered and the band played a total of ten songs: Right On Track, 16 Years, The Courtship of Summer Preasley, If You Wanna Stay, Be Impressive, Live This Nightmare, Mississippi Down and Out, Beware the Dog and Heart of a Lion. The songs that got the best reaction from the crowd were 16 Years and Beware the Dog. Although The Griswolds were well liked, it was difficult to hear the singer over the drums and bass. A nice touch was that the band did was come off the stage during the concert and greet the fans.
At 9:20 pm, Walk the Moon took the stage and the fans went wild. Opening with Different Colors, they followed it with thirteen more songs: Tightrope, Down in the Dumps, Spend your $$$, Shiver Shiver, Avalanche, Up to U, Work This Body, Portugal, Aquaman, Lisa Baby, Jenny, I Can Lift a Car, and Shut Up and Dance.
"
The moment the song 'Tightrope' started, the pain in my feet disappeared and I proceeded to sing as loud as possible. It was the best thing I have ever experienced."
— senior Jean Valverde
When they exited the stage, the fans started chanting "Anna Sun" and the band came back out and preformed two more songs: All These Things I've Done (Killers Cover) and of course Anna Sun. Walk the Moon also had a positive message: "Let's make the world a better place!" as well as reminding the fans to "take care of each other out there." Their cool lights and effects gave a great vibe.
"
I had a great time at the concert. We waited in line for three hours, but it was worth it, and seeing Walk the Moon was amazing live. I'm also a huge fan of the Griswolds so it was great to see them open."
— senior Hanna Payne
After the show, both The Griswolds and Walk the Moon came out to sign autographs and take pictures with fans. Make sure to check out Walk the Moon's new album, "Talking is Hard."
About the Contributor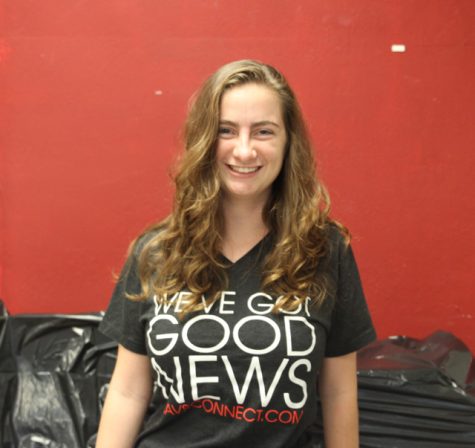 Lane Morris, Editor-in-Chief
Lane Morris is a senior in the International Baccalaureate Program at Coral Gables Senior High. She's proud to be a Cavalier and tries to be as involved...