Baseball Preseason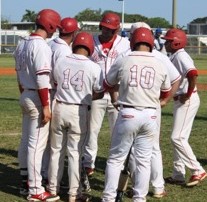 Boys Cavaliers baseball tryouts were on Monday, Jan. 20, 2015. With their brand new team set up, the boys are hoping to start off the season with a big hit. This year, the baseball team's plans entail only being dedicated and playing competitively.
Although they lost seniors that were part of the team last year, the team is still going to stick together to work hard and beat their opponents – especially their biggest rivals, Columbus and Killian. Not a lot has changed since last year, except for the fact that this year, the boys will work harder than before.
"Losing last year brought one goal to our mind: we are making sure that it doesn't happen again," junior and first base player Antonio (Elijah) Eusebio said.
The team practices every day and makes sure to perfect every player's position by practicing after school and working out at 4 a.m. Every player is important to the team and it is vital that they work on executing every position. Hopefully, all this hard work will pay off and take them to states, their biggest goal of the season.
"I really believe there is no reason why we shouldn't make it to states this year," senior and outfielder Raymond Gonzalez said.
The team cannot wait for the start of the season to play games and get better. With all of their training, they are sure to be a team to watch this year. Hopefully, the baseball team will stick to its plan and has a great season. Come and support them in their first preseason game on February 3rd, 3:30 at Gables, against Westminster.