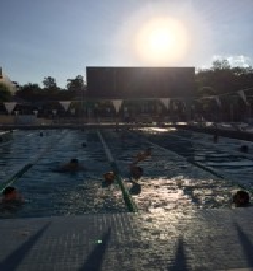 It is time to jump back in the water for our water polo players; the season has started again. The Cavalier water polo team is getting ready for a great season and they all have high hopes for the season. Though they lost a lot of valuable players last year, they still have some from last year, alongside new faces that are ready to step up and take some responsibility on the team.
"I like that the team is really close, which is great because it helps us a lot in and out of the pool," junior Nick Restrepo said.
Many of the team have been practicing throughout the school year to get ready for this season. Some even joined the swim team to get faster and to spend more time in the water ahead of time. Practices are starting soon at the Ransom Everglades pool from 3:00 p.m. to 5:30 p.m.. The water polo team will be working hard every day to achieve their goals during the season. Both the boys and girls team are hoping to at least make districts this year. Everyone is working on really helping the new players and fixing old habits as well as making sure to put as much effort in as possible toward getting better. They are also looking to do well in some of their big rivalry games this year; the girls team is hoping to beat MAST and Terra, and the boys team is looking to beat Belen, Columbus, and Ransom, since these teams have been strong competitors in the past few years.
"My hopes and goals for the season are not only to improve my personal performance but for the team to step up and learn from our weaknesses from last year and continue to improve as the season progresses," junior Alex Holian said.
Coach Fraga is returning as coach for the girls team and Coach Brian Van Cleave has decided to help coach the boys team after having a great time coaching the Cavalier swim team. They are both ready to get their players in shape and ready for the season. Both coaches are working on speed and technique this year to help with the team's endurance and give them an edge in difficult games.
"Water polo has been my passion since I started playing in high school and the sport made college an amazing experience that I'll never forget. Any chance I get to share that passion with a new generation of athletes is an opportunity I love," Coach Fraga said.
The team can not wait for the start of the season to play some games and get better. They are ready to jump into the season and show off what they have got. With all of their training, they are sure to be a team to watch this year. Be sure to root for both the boys and girls teams on Feb. 5 as they go to Hadley for the Krop Pre-Season Classic. Help cheer our Cavaliers towards a great season.