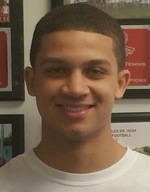 Mr. Romero
It is true that a team is only as good as its weakest link, but a team's ability to achieve lies on the dedication and passion of its members. Athlete of the week PJ Hall has dedicated a lot of his time to bettering his skill and technique with hopes of helping add to the Boys Basketball Team's accomplishments, and his hard work is paying off. During the team's last game alone, Hall averaged 14 points, five rebounds and three assists.
Being nominated for Athlete of the Week is in and of itself an acknowledgement that Hall appreciates and recognizes as a true achievement, especially when all other nominees were equally driven and talented Gables athletes. Now that he has won and claimed the title of Athlete of the Week, it has become a representation of hard work paid off for him.
Hall has had a passion for basketball from a very young age. When he was four years old, his mother bought him a basketball hoop to place on the back of his bedroom door, and it was there that Hall nurtured his passion for basketball. But his true drive for the sport comes from his two idols: Kobe Bryant and Michael Jordan.
"Kobe Bryant and Michael Jordan's dedication to the game is what drives me. Kobe's ability to still possess a title in a league gives me the confidence in myself, and shows me that I can be playing for a long time," Hall said.
A true athlete, Hall never passes up the opportunity to better himself in any way possible. Even after doing so much for his team, Hall is determined to better his game. He knows his weaknesses and is willing to practice as long as necessary to increase his chances of success.
"There's always room for improvement within myself. Right now, I would like to work on my ball handling and footwork in order to get to the basket quicker and easier," Hall said.
Just as Hall knows that his persistence, dedication and hard work have played a huge role in him receiving this recognition, he knows that he owes a lot of what he has managed to his teammates. He is proud of what they have been able to accomplish thus far, and is convinced that, if they continue to play as a team, they will be able to reach new heights.
"I expect the team to win districts at this point. After that, anything less than last year is a failure," Hall said.
It takes hard work and dedication to succeed and make a name for oneself in a sport, but if things stay as they appear, Hall might just do it. His passion and dedication to basketball is not something many have, and hopefully he will continue to apply himself and keep it going as he has.