Local Farmers' Markets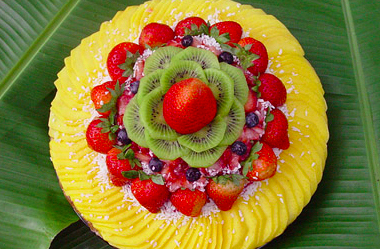 Our Rating: A
South Florida is known for having some of the best farmers' markets in the state!
Glaser Organic Farms, a vegan farmers' market, takes place in the heart of Coconut Grove every Saturday from 10 a.m. to 7 p.m. This one-of-a-kind farmers' market sells raw vegan desserts ranging from ice cream to raw vegan goods. It even offers a deli of raw vegan "Nori Rolls," sushi that consists only of vegetables, fruit and a spoonful of hummus all wrapped into little rolls. Not only does Glaser Organic Farms sell its own fresh and tasty products, but several other local producers also sell their vegan pastries and handmade book bags from Nepal (all profits go to a school in Nepal). In this unique farmers' market, you can sit and enjoy a tasty yet healthy lunch. The best part about Glaser Organic Farms is that it's open year-round!
"
Glaser Farm has this way of really making you feel connected to your food and be aware of what you're putting in your body. The sellers put their heart and soul into their work and transmit that loving energy into everything they produce. Everyone at the market [is a] compassionate [person] with only good intentions,"
— senior China Opland
From Jan. to March, the City of Coral Gables hosts its annual farmers' market, located right next to Coral Gables City Hall. During these months, every Saturday from 8 a.m. to 2 p.m., you can change up your grocery shopping by purchasing fresh produce or treating yourself to mouthwatering local baked goods. Not only does this lively farmers' market provide food, but it also offers free Tai Chi Classes as well as Gardening and Cooking Demos. The opening of this year's farmers' market is Jan. 17, so don't miss out!
Over the years, farmers' markets have become increasingly popular, especially since people are starting to become more health conscious. Luckily, Glaser Organic Farms serves delicious fresh foods year-round, while the Coral Gables Market is open just for the beginning of the year. In order to start your year the right way, consider spending one of your Saturdays visiting a market. The benefits include becoming healthier, while supporting local farmers!