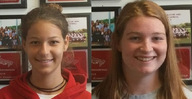 Mr. Romero
The Lady Cavaliers soccer team have two seniors on their roster who have been instrumental in their great season. Seniors Claire Shillington and Nelly Sagarra have both been working hard to create wins for the girls soccer team, most recently when they helped shut out South Miami 8-0.
Claire has been playing soccer since she was about six years old. She made the Lady Cavaliers soccer team as a freshman and was thrilled to be one of the captains for the year. She plays sweeper for the team and has been the difference in stopping the other teams from scoring on numerous occasions.  Although she does not want to go pro in soccer, she definitely wants to play it for fun in college and later in her life. She is very happy about the team's chances this year and hopes they do well.
" Our season is almost over, but hopefully we will do well at GMACs and advance past districts," Shillington said.
While Claire is busy stopping the other team from scoring, the other captain, Nelly Sagarra, is trying to score. Nelly plays forward and has scored many goals as well as helped many other players score during the games. She has also been playing soccer since she was about six years old and likes many different sports, but soccer has always been her favorite. She is very excited about the way the team has played this year and hopes they will continue to play just as well or better.
"My inspiration in soccer is to become the best player I can be," Sagarra said.
With the combination of their great offense and defense, Nelly and Claire have been an important part of the Lady Cavaliers soccer team. They both have high expectations for the team and hope to keep playing soccer as long as they can. Be sure to watch them in their next game on Jan. 6 against MAST on our home field. Keep an eye on these two as they lead the Cavalier team through to the end of their season.