Athlete of the Week: Jaafari Stephens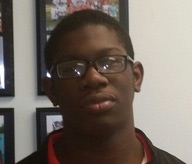 Wrestlers are known for bringing all they have got to the mat, and this week's athlete of the week is no exception. Freshman Jaafari Stephens ended the past week with a 10-2 win to lose ratio and placed 4th among 30 other wrestlers at the Hialeah Gardens Tournament.
Stephens began wrestling two years ago at Ponce de Leon Middle when he was in 7th grade. There he came to realize his competitive side and in the process discovered his passion for wrestling.
"My first year as a wrestler was a great experience. I won match after match without losing, until finally I lost. This is what kept me motivated to come back and continue wrestling: the competition and not wanting to lose," Stephens said.
Although Stephens has accomplished a significant amount, he is not yet satisfied with his performance. He believes that if he put more effort into his training and worked hard he could achieve more than he ever had in mind.
"I feel like I did very well, but I want to work harder and do more in order to do better later on," Stephens said.
This freshman is not selling himself short either. Stephens hopes to continue to maintain his winning streak and hopefully make it to states. He knows what he is capable of and is willing to put in the necessary amount of work to accomplish his goals.
"My training is a daily repetition of cardio and technique to improve my skills and just make me a better athlete and a better competitor," Stephens said.
And Stephens is not just aiming for a memorable high school experience, he hopes to be able to continue wrestling after he has graduated from Gables.
I hope to go to some D1 college and be one of the best wrestlers in the country, and maybe – if I am good enough- I will attempt competing at the olympics," Stephens said.
Jaafari Stephens is willing to do whatever is necessary to come out victorious in a competition, especially when it is wrestling related. Catch him in action at Gables next wrestling match on Dec. 17 from 9-5 p.m. at KSA.