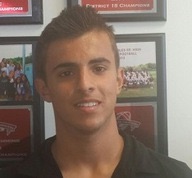 Mr. Romero
The pressure of preventing the opposing team from scoring a goal falls harshly on the shoulders of defense, and sophomore goalkeeper Daniel Rodriguez has managed to play well under the pressure. Rodriguez helped the boys soccer team remain undefeated last week by keeping Miami High from scoring with a 8-0 win, and limiting state champion Columbus to only 1 goal.
As a team player, Rodriguez knows that he owes a lot of his recent accomplishments to his teammates, and he has made sure to give them the credit that they deserve. He is just glade that he has been able to play such an important role in the team victories this season.
Achieving such an accomplishment has required a lot of hard work from Rodriguez. He trains persistently for hours – sometimes extending his training until after practice – in order to better his skills and increase his chances of succeeding. As goalkeeper, he has a lot riding on his instincts and actions, but he has not let that keep him from taking necessary risks during the games.
"I have been trying new things during games and practices that I know might have some consequences, but with practice they will greatly improve the team's defense. I also try to get keeper training involved during practices to work on technique. Since I'm a goalkeeper, the way I play is very different from everybody else, so I have too keep up with my role," Rodriguez said.
Soccer has always been an important part of Rodriguez's life, but he did not start playing until after watching the European cup in 2008. At the age of 10, he made the decision that he wanted to try his skill as goalkeeper, and soon afterward, he fell in love with the sport. Since then, dedicating time to soccer has become a routine for Rodriguez.
"As soon as I started playing soccer, I knew I always wanted to be goalie. I saw how [Oliver] Kahn [dove] and how crazy and aggressive keepers are on the field, and I always thought that the position really suited me," Rodriguez said.
When it comes to his future, Rodriguez is certain that he wants to take up a soccer related career. Either playing at a professional or semi-professional level, or simply coaching soccer. He also has hopes of finding his way back to Gables and assisting in any way possible.
"If by any chance I don't get recruited, I will play semi-pro in Germany with a team I work with every summer and start a career from there, while of course studying at the same time. If I do stay in the states, I will be a student athlete at the college level, and afterward if I don't make it pro I still want to work as a coach, or in a professional club. I still wanna visit the team when I'm out of high school and help them in any way – especially the goalies," Rodriguez said.
Daniel Rodriguez is aware that he needs to a work hard in order to reach his goals, and not once has he hesitated to do what is necessary. Make sure to look out for Rodriguez in the boys' next against December 1st against Columbus.