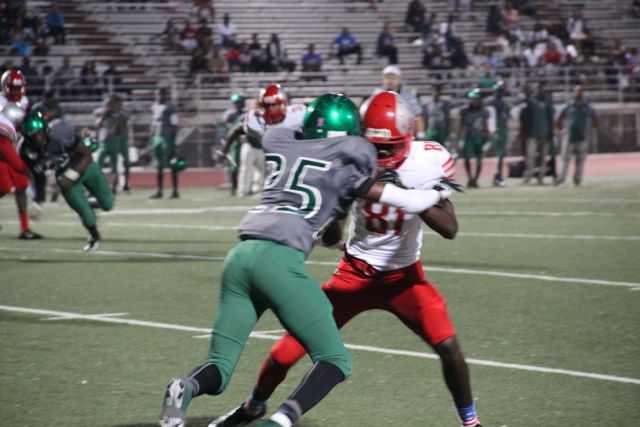 Samantha Valero
The Coral Gables Cavaliers came through with a victory in a close, hard fought game with the North Miami Pioneers in the first round of the FHSAA 8A Football playoffs. The game took place Nov. 14 at FIU North Stadium at 7:30 p.m.. Those that were in attendance got to experience a great game, and those who stayed until the end saw the winning score of 19-14!
"Good defensive players make good defensive plays in clutch times – we worked too hard to lose this game, so I put it all on the line for my team. Be ready – December 19 – we're coming for you, states," sophomore and defensive back Kevin Romer (#18) said.
It was a slow start in the first quarter; the pioneers had a quick start, scoring a touchdown and opening the game with a score of 7-0. In the second quarter of the game, quarterback Voshon Waiters (#17) found wide receiver Shaquiry Wilson (#7) in the end zone for a touchdown, bringing the score to 7-6. Soon after, the pioneers made a touchdown pass, setting the score to 14-6.   The Cavaliers quickly turned on the offensive and Waiters and  Wilson connected for another touchdown.  Coral Gables attempted the two point conversion to tie the game but was unsuccessful,  ending the first half with a score of 14-12.
Right after halftime, the Cavaliers came out firing hard and Waiters and  Jaylin Clark McNatte swung the momentum to Coral Gables with a 64-yard touch down pass, giving the Cavaliers the lead for the first time in the evening with a score of 19-14. The rest of the third and all of the fourth quarter was a tense battle between the North Miami passing attack and the stingy Cavalier defense.  The Coral Gables defense stiffened up and denied the North Miami offense any scores. The pivotal defensive play came with 55 seconds left in the game, when Romer intercepted ball off of a trick play, sealing the game and ensuring the Cavalier victory.  The final score for the evening stayed at 19-4, so the Cavaliers move on  to the next round in the playoffs.
"Right now, this is where it all began – two years ago; another game like this ended with 21-14. At some parts of the game, it seemed like our season would be over, but we pulled through and we made it. In order for us to beat Columbus next week, we need everyone out there; Thursday at Tropical, 7:00 – we need our Cavalier Nation," head coach Pollard said.
Join us next week in the big rivalry rematch between your Coral Gables Cavaliers and the Columbus Explorers.  This game should prove to be very exciting – the regular season match up was decided by just one point.  Thursday, November 20, 2014, Tropical Park at 7:00 p.m.. Be there and be part of history as the Cavalier Nation continues its march through the playoffs.