Athlete of the Week: Jade Mallea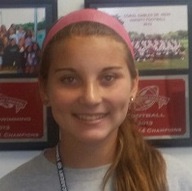 When athlete of the week Jade Mallea steps onto the soccer field, there is only one thing going through her mind: score that goal. Last week, freshman soccer player Mallea helped lead the varsity Lady Cavaliers Soccer team to a game winning ratio of 3-0. She scored a total of 5 goals and 2 assist as the girls soccer team defeated Miami High 8-0, South Miami 8-0, and Ronald Reagan 3-0.
Mallea was introduced to soccer at the young age of three. Her mother coached at Tropical Soccer at the time, and it was where Mallea first learned to play the sport. It was not until two years later that she started to take soccer seriously, and found her passion in playing. She has discovered a competitive thrill to the game that has continued to intrigue her over the years.
"I really got into soccer when I was about six – before that I would just cry and play duck duck goose the whole time," Mallea said.
Mallea is not aiming for small dreams, and she is not settling either. She wants to help get her team to states – something that ninth graders have four possible years to accomplish, yet she is striving to do it this year. As both the goalkeeper and a field player on the team, Mallea hopes to not only maintain her goalkeeper streak of not being scored on, but also hopes to be the freshmen with the most goals.
"I want the team to win states. I know everyone says they have until their senior year, but we need to strive to be the best in order to succeed," Mallea said.
Mallea is not just striving for a successful high school career, but an even more victorious professional career as well. She hopes to someday reach her goal of playing at a Division 1 college, and maybe play the sport professionally.
"In the future, my goal is to go to a Division 1 college – especially Duke – and play pro, if possilbe," Mallea said.
Jade Mallea has surprised many people with her accomplishment this past week, and what she has proven on the field is just the beginning. Catch her in action on Nov. 21, when the Lady Cavaliers Soccer team plays against rival school Lourdes at 2:00 p.m..