Athletes of the Week: Hanna Payne, Jesitt Perez, Hannah Cordes & Paloma Sanchez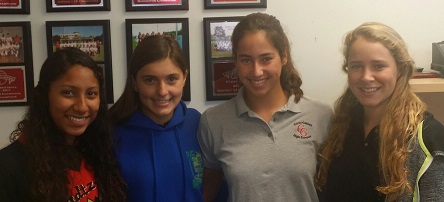 This week's Cavaliers have been having a splash this season, swimming their way to the top and becoming undefeated in all of their dual meets. These four talented ladies took first place in several races at swimming districts. They are also part of the "A" relay team, and took home the gold in the 200 medley relay and the 200 freestyle relay.
Senior Jesitt Perez took first place in the 100-meter Fly Stroke event. Perez first learned to swim when she was 6 years old. Her mom forced her to take swimming lessons after almost drowning at a pool party. She continued to swim at a community pool until she was around 14 years old, and then went on to swim competitively with Miami Swimming, along with another fellow Cavalier swimmer, Hanna Payne. Although she does not plan on swimming competitively in college, she will always use swimming as an outlet for everything else. 
"My favorite thing about swimming is the weightlessness – I can do a lot of cool tricks underwater that make me feel free," Perez said.
Senior Hanna Payne first discovered her love for swimming when she joined a team at around the age of 12, and has been hooked on the sport ever since. She swam for the Gulliver Swim Club prior to swimming for Miami Swimming, which she has been doing for the past 4 years. She recently won first place in the 200-meter Freestyle & Medley Relays at District Championships.
"I love being part of the Gables swim team. I love being part of that family and even though it's an individual sport, I have never felt more a part of something than while swimming on a team," Payne said.
Freshman Paloma Sanchez did an excellent job, taking second place in the 50-meter freestyle event. This is not the end for Sanchez, as she hopes to excel even more in her future swimming career. She is determined to work hard in order to swim in college – and possibly in the Olympics. For more information on Paloma Sanchez and her devotion to swimming, feel free to look at her spotlight.
"My goal for swimming is to make it to the State Championships all four years," Sanchez said.
Sophomore Hannah Cordes won first place in the 500-meter race at districts and placed second in the 200-meter individual medley. Because of her impressive performances, she is now ranked high for the regional championship meet and is expected to make states.
There is no stopping these athletes when it comes to winning. We are all rooting for these swimmers as they take on this great feat of making it to states, which they will hopefully execute.Best of luck!