Cavaliers Light Up Coral Park in Blowout Game!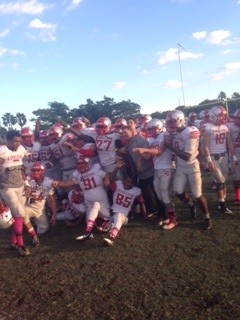 On October 25, the Cavaliers set off to face their opponents, the Coral Park Rams, at Tropical Park. The game began at 4:00 p.m., and the Cavaliers started up their BBQ and torched the Rams; the final score was 54-0.
"Sometimes playing down to a team you're supposed to beat can be difficult, but we stayed focused and won," offensive lineman Coach Miller said.
In the first quarter, Voshon "Bubba" Waders (#17) and Damon Fuller (#81) connected on a 43-yard pass.  The Cavaliers struck first and took an early lead with a score of 7-0. Two minutes later, Shaquery Wilson (#7)  scored a touchdown on a 35-yard run, bringing the score to 14-0. Later in the quarter, Amir Rasul (#34) found the end zone on a 5-yard run, bringing the first quarter to an end with a whopping score of 21-0. Rasul (#34) started off the second quarter with a 4-yard touchdown run, increasing the lead to 28-0.  The Cavaliers continued the attack through the air as Waders completed a 21-yard pass to Jaylin Clarke-McNatte (#85), scoring yet another touchdown.  The first half ended with a score of 34-0.
"The game was really fun, although there weren't a ton of people there. Everyone was so pumped up, and I'm so glad we won," freshman Hannah Prado said
Rasul opened up the third quarter by ripping off a 35-yard touchdown run, and the Cavaliers continued to widen the gap from the Rams with a score 40-0.  With 35 seconds left in the quarter, Rasul broke loose for a 54-yard touchdown – the fourth time he found the end zone. Rasul had an impressive afternoon; he gained 195 yards and four touchdowns on 14 touches.  The third quarter ended with a score of 47-0.  In the fourth quarter, freshman running back Nicklaus Meklange (#42) charged up the middle on a 42-yard touchdown run, ending the game with a score of 54-0.
"We expected this. We were facing an easy opponent, and our aim was to correct all three phases – offence, defense and special teams – to get ready for the playoffs. It was an exceptional appearance of the Cavalier nation … Hopefully we have the stands filled even more [for the next game]. I want to give a shoutout to my 'fat boys' and my offensive line, who played an important part …  Go Cavs," left tackle Andy Moreira (#79)  said.
Join us next week on Thursday, October 30, 2014 when the Cavaliers (3-1) take on the the Miami Beach High Tides (1-3) at Memorial Stadium on the beach at 7:00 p.m.  This is the last district game before the playoffs begin – let us go out and remind the opposition to 'fear the Cavalier.'