Paloma Sanchez Swimming Swiftly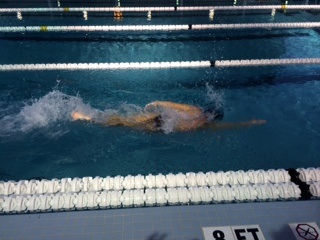 Freshman Paloma Sanchez is ready to take on the challenge of high school swimming. After having done well at her first meet against Ransom Everglades, Terra and Coral Shores, she is excited for the rest of the season. She has very high expectations for herself throughout her high school swimming career.
"My goal for swimming is to make it to the State Championships all four years," Sanchez said.
As a child, Sanchez's parents tried putting her in a lot of sports and soon found out that she had a lack of coordination but a heart for swimming. She started swimming about ten years ago and started competing when she was eight years old. Ever since then, she has fallen in love with the sport.
"Swimming is a great way to make friends, and it keeps me healthy and I love challenging myself," Sanchez said.
Outside of high school, Sanchez has had success in club swimming. She currently swims for a club team called Miami Swimming. Swimming has impacted her life for so long that it is now part of her daily routine. Sanchez has had success in swimming from an early age – she even achieved a Florida record for her club team.
"My favorite [swimming] memory was getting the Florida record for the 50 freestyle when I was 12," Sanchez said.
The secret to Sanchez's swimming is preparing herself both physically and mentally, especially before a race, where ultimate concentration is needed. She also finds it very important to keep hydrated and healthy for race days. Sanchez trains all year long – Monday through Saturday in the afternoons. In addition to those practices, she has morning practices almost practices every day during the summer.  Sanchez shows her dedication to the sport by waking up at 5:30 almost every morning in the summer.
"Before I race, I concentrate and visualize my race, and during the race I sing a really fast song in my head," Sanchez said.
Sanchez's hope for swimming in the future are to swim in college and possibly to go to the olympics. Sanchez has been known to work hard in and out of the pool – whether she's doing dry land or swimming a hard set, she always tries to put her best effort into it.
"Paloma Sanchez has the talent and ability to be a finalist at the state finals. With the right amount of work during the season, she will be a contender in multiple events and help get Gables relays to the top as well," Sanchez's club team coach Andy Di Angulo said.
In these four years left in her high school career, who knows how far she will get. The next meet she will be participating in is on Thursday, September 18, versus Miami Beach. Whether it's for high school or for her club team, Paloma Sanchez is ruling the pool. 
About the Contributor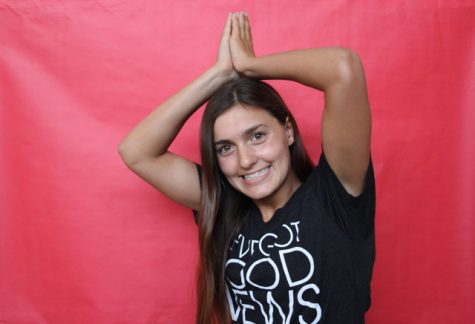 Hannah Cordes, Staff Writer
Hannah Cordes is a sporty IB senior in CavsConnect that loves everything there is to love about Gables. Whether it is dressing up for a pep rally or going...