Gables Vs. Lourdes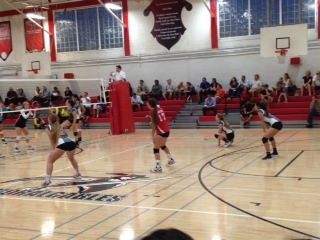 Gables's Girls Volleyball team went up against the Lourdes Bobcats and didn't give up without a fight. The five sets were played with extreme passion as the crowd cheered for the lady Cavaliers.
In a volleyball game, there are 5 sets that are played. To win the whole match, three out of five sets have to be won.  Losing points can be lost by simply missing a serve or letting the ball drop.
Unfortunately, the first set was lost 11-25. Senior Erin Mccain served out most of the points with enthusiastic jump serves. Not trying to give away points, she tried to go after every ball – not to let it drop or go out. Sofia Toche, the libero, did an amazing job of passing deep and spiking balls to her setter, Yara Faour. Being the libero of her team, Sofia had to stay at the back row and never rotate to the front. The most important part of volleyball is being able to bump the ball perfectly up into the air, set it up, and spike it down to the opposing team. In volleyball, players don't want to give many free balls away, because their opposing team can easily score a point.
During the second set, Gables lost again at 7-25 as a result of a couple more mistakes. As the third set came along, everyone started to step up their game and play improved greatly. Gables won this set 25-19. The amount of teamwork and enthusiasm put into the third set really made a change to the feel of the game. Sara Rodriguez gave out aggressive spikes, gaining points. Brittany Ellison and Lauren Perna would dive down on the floor to prevent ball drops. Perna twisted her ankle at one point after spiking and landing in a bad position on her foot and was injured.
"At first [Lauren's injury] did [affect the rest of the team], but once the team started the set, we got back in our momentum – it was enough even to win that last set. We didn't win overall, but we definitely played our best. It was a very intense game," senior varsity player Francis Perez said.
The injury had a very big impact on the game, since Perna was one of the starting girls. After she was taken out of the game, all of the lady Cavaliers got thrown off track by the fact that one of their teammates was hurt. Taylor Fay was quickly substituted and put on the court to get things back on track.
"The motivation of your teammate being down gives you the motivation of playing harder in [the Cavaliers'] next game," JV freshman Alexis Quintana said.
In the fourth set, Gables began winning by a wide margin. Everything went smoothly, until the girls started to drop balls and serve out of bounds more frequently.
"The girls played their best and tried hard to succeed and adapt to their injured player. Although they lost, I'm sure they will improve and practice and prepare for their next game," Erin Mccain's mother said.
After putting in a lot of effort and never giving up, the game ultimately ended at 1-3. There are still many more games to come and the team plans on improving and striving harder than before to do well. Next time the Cavaliers play against Lourdes, they plan on playing a game that they'll win.
About the Contributor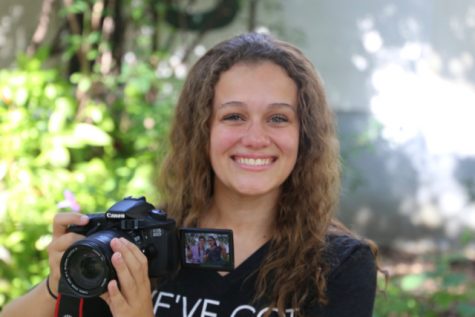 Cameryn Padron, Multimedia Editor
Cameryn Padron is a senior in the IB program. Cameryn is starting her fourth year working for Cavsconnect and her second year as the new Multimedia editor....