What Is In a Name: Vanya and Sonia and Masha and Spike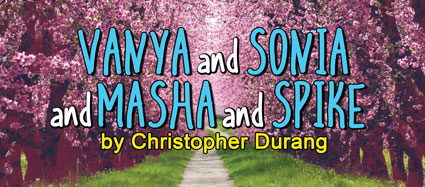 Play: Vanya and Sonia and Masha and Spike Author:
Christopher Durang Where: GablesStage at the Biltmore Hotel Rating:
4.5 out of 5 Stars   GableStage has brought to life its new
production of the tony-winning play Vanya and Sonia and Masha and
Spike, and it is a must see for any person who loves Christopher
Durang. The namesake of these new characters might feel familiar
for those avid theater goers. For any Anton Chekhov fans, Durang
draws inspiration for his breathtakingly, side-burning hilarious
heavily from the Russian playwright's works and creates a
surprisingly deep, emotive story in a very humble setting with
a giant cast of six. The story revolves around a dysfunctional
family, and Durang uses his sharp, farcical humor to merciless
critique the past and the present. The play takes place in the
exquisite, stone-built family home somewhere in the confinement of
Bucks County, Pennsylvania. The set alone is reason to come see the
show; the purpose of the set is to take the audience somewhere else
and set the story-a feat that it accomplished and excelled at.
Never have I wanted to live on a set so much. It opens with
dialogue between Vanya (Avi Hoffman) Sonia (Laura Turnbull), the
first a middle-aged gay man and the second an adopted child, who is
now top forty year old woman and never experienced life. Both of which are reminiscing of their choices to stay home and take care of their
aging parents. Their pointless, but funny bickering is suddenly
interrupted by Cassandra (Jade Wheeler), the fortune teller turned
housekeeper, who arrives just in time to spew the daily prophesies
and cryptic warnings. The otherwise unimportant day is
revolutionized when sister Masha, the famous, egotistically and
painfully narcissistic actress arrives with her sexy hunk,
Vlad- I mean Spike. Although Spike spent half of the time in
skimpy Calvin Klein Boxer briefs, or that he has a body that was
almost impossible not to look at, he easily stole the spotlight
with his on cue performance: the stupidly delightful idiot that you
can help, but stare at. Spotless acting. Masha can help, but grow
even more selfish when Spike meets the gentile, aspiring actress
Nina (Hayley Bruce), who is ironically a loyal Masha fan. The petty
Masha puts everyone down, but not before inviting them all to a
costume party that evening as her entourage. Everything goes
comically berserk from here; in between fits of laughter, you'll
catch a Maggie Smith impression, a voodoo doll, and a series of
monologues that could reduce even the most seasoned of hearts to a
pile of mush. The monologues tie the whole play together, climax
it, and make it worth every second spent in the theater. The actors
individually were fantastic. At times, sometimes the exaggerated
personalities could grow to be grating, yet, one could make the
argument that they were necessary. Vanya's epically powerful
closing speech brought the house down in one of the most beautiful
climaxes of Durang's plays. His speech is a walk down memory lane
for anyone over thirty. Sonia's phone call managed to be
heartbreaking and inspirational at the same till, with just a dash
of sardonic, self-deprecating humor. Cassandra's voodoo scene was
exquisite, as was her flamboyant, enjoyable foretelling. Masha was
terrible.Only
her humor could have saved such a wretched character. And then we
have Spike and Nina;Nina was sweet and gentile, but her wispiness
was lost at times amongst the much stronger personalities. Spike was
stunning. Only few people can play off stupidity in such a
calculated manner. Acting as a symbol of everything modern, he
brings us to question our society in all its technological glory
and pop culture, and makes us reflect on our roots. He contrasts so
much with everyone else, he can't help but bring out the best in the
other characters, or at times, the worst. Spike, Vanya, and Masha
were the lifeblood of this play. Each actor and actress brought
something different to the mix, and in the end, I would call it an
immensely successful production worth the watch. An epic
success.
About the Contributor
Camilo Bacca, Photography Editor
Camilo Bacca is a senior in the Visual and Performing Arts Academy at Coral Gables Senior High School. He is a returning this year to the CavsConnect Staff...