Cavalier Wins Gates Millennium Scholarship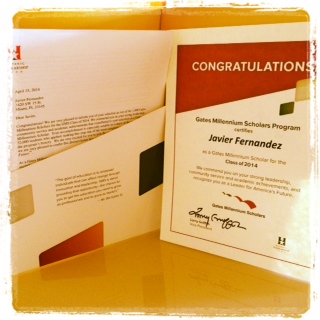 The Gates Millennium Scholars (GMS) program, funded by a grant from the Bill & Melinda Gates Foundation, was established in 1999. Its goal was to provide outstanding African American, American Indian/Alaska Native, Asian Pacific Islander American, and Hispanic American students with significant financial need an opportunity to complete an undergraduate college education in any discipline area of interest. In other words, they wanted to promote academic excellence by giving these unique students a chance to reach their full potential.
Each year a large amount of students from everywhere around the world apply for this scholarship, but only 1,000 get it. This year, our very own senior, Javier Fernandez, was granted the Gates Millennium Scholarship. Fernandez has gone through a lot in his life and getting this scholarship will help him achieve his dreams.
"I have big dreams, been through a lot of adversity, and have somehow come out on top. I really tried to make that evident in my application and, luckily enough, I believe they saw that in me. My family and I have overcome a lot, been to hell and back, and are still climbing out of the hole we were undeservingly thrown in. I want to be a living testament that anyone in any circumstance can do amazing things if given the right chances, and I'm so blessed to be given this chance," senior Javier Fernandez said.
Before being granted the scholarship, Fernandez had to be nominated and recommended for the scholarship, and then forego a rigorous application process that included an 8,000-word essay. Although he had to spend a lot of time completing the application process, Fernandez was able to achieve it with the help of others who believed in him.
"Van Wyk and Ms. Stack were kind enough to be my nominator and recommender because they believed I had a shot. Those who helped me with my essays really made the difference between a hopeful application and a truly deserving one. I'm forever grateful," Fernandez said.
Throughout his life, Fernandez has had to face a great deal of financial trouble. Being born into luxury and wealth, things took a turn for the worst after Fernandez' father gambled away his family's fortune, stole his way into two bankruptcies and later disappeared from their lives forever, leaving behind tens of thousands of dollars in debts and legal disputes. This situation forced Fernandez and his family to move multiple times as he was growing up. To this day, the burden that was left by his father is still being worked out.
"I went from riches to rags, and learned so much in the process. To finally not have to worry myself about my future in terms of finances is absolutely surreal and life changing," Fernandez said.
Not only is Fernandez a well rounded student, but he also manages to balance his athletics with his school work. Javier is part of two varsity sports consisting of swimming and water polo, and is also part of the Gablette sweethearts. On top of gaining the Millennium scholarship, Fernandez also is a senior of distinction.
Great people like Javi show that, as long as you are a hard worker and you have a good heart, the sky is the limit and you can accomplish anything.