How to Get Your Learner's Permit
Many teenagers in high school are particularly eager to start driving, but most are not informed about the meticulous process they have to go through to earn this privilege. This process may overwhelm some, but a learner's permit is achievable! Below is a list of the steps needed to be taken to attain your Florida learner's permit.
1. Take the online DATA (Drugs, Alcohol, Traffic Awareness) course: Also called the TLSAE (Traffic Law Substance Abuse Education) course, this is a program that was designed to enlighten teens about the potential dangers of mixing substance abuse and driving. It is available to be taken by anyone age 14 ½ or older. The whole course consists of seven chapters that must be read in at least four hours. At the end of the course, there is a test of 40 questions on the information covered. The average cost of the course is $29.95 and it can be completed online at 123driving.com or HighSchoolDriver.com.
"I think [the DATA course] isn't necessarily a hard course, but it's just a lot to read because it is four hours long. As long as you read it, it's pretty easy to understand the subject matter," said freshman Holden Payne, who is in the process of getting his learner's permit.
2. Prepare to take the road rules and road signs exam: The road rules and road signs exam is often underestimated. Studying is necessary for most in order to pass this test. The Pass the First Time Program is recommended as a practice test to review for the real exam. This practice test costs $14.95. Another way to prepare yourself for the exam is to use the Florida Driver's Handbook to study.
3. Take the road rules and road signs exam: This exam can be taken once you turn 15. It is available to be completed online and at the DMV, but keep in mind that only people under the age of 18 can take it online. Three failed attempts are allowed when taking the online exam. Once all chances are exhausted, the exam is required to be taken at the DMV. The test is a total of 40 questions, split evenly between the topics of road rules and road signs. In order to pass, 15 questions must be correct in each section. The cost of the online exam is $24.95 and can be taken at 123driving.com or HighSchoolDriver.com.
Sophomore Tomas Nieves provides some advice for people journeying to take the DMV exam: "I recommend studying the handbook before you take the DMV exam. I failed a few times without reading the handbook, but I finally studied from it and passed."
4. Make an appointment at the DMV: To ensure you don't have a long wait at the DMV, making an appointment would be ideal. You can make an online appointment , or call your local DMV office. Your type of appointment will vary, depending on whether or not you have already completed the road rules and road signs exam.
5. Go to the DMV: Once you are at the DMV, you will be obligated to take a hearing and vision test (don't forget you glasses or contacts!) You will also need to provide a few legal documents. These documents include 2 different forms of identification (e.g. birth certificate, U.S. passport, certificate of naturalization), your Social Security card, proof of residential address (any document with your address and your or your parent or guardian's name on it), and the Parental Consent Form (which can be completed at the DMV). A list of acceptable documents can be generated at http://www.gathergoget.com/default.aspx.
6. Obtain learner's permit: Congratulations, you've made it! They will print your learner's permit immediately at the DMV. With your permit, you will be allowed to drive as long as there is a licensed driver who is at least 21 years old in the passengers seat. Also, for the first three months, you will only be allowed to drive during daylight hours.
Having the chance to get behind the wheel is exciting. However, before you grab the car keys, acknowledge the fact that driving is a huge responsibility that should be taken seriously. You don't want others to want to clear the roads as you come rolling by. So adjust your mirrors, cruise around safely, be safe, and, most importantly, have fun!
About the Contributor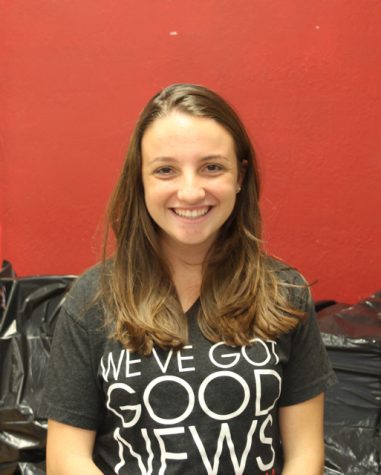 Annie Farrell, Copy Editor
Annie Farrell is a senior in the International Baccalaureate (IB) program at Coral Gables Senior High School. A seasoned Cavalier, Annie is involved in...