A Teacher's Love for her Job and Family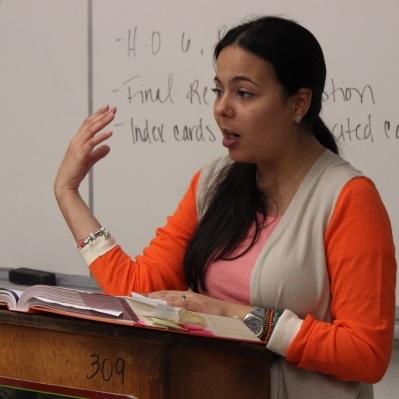 Managing students and a new family can work up a teacher's schedule. Mrs.Lopez-Ponce is currently an Inquiry Skills and English teacher for 9th grade students. As a teacher that loves her job and a mother of a 2-year old little girl, Mrs. Lopez-Ponce is still trying to find the best balance between work and her life as a busy mom. Attending Barbara Goleman Senior High School in Miami Lakes, FL, Mrs. Lopez later continued her education at FIU where she majored in biology and pre-optometry. Believe it or not, Mrs. Lopez was originally planning to become an eye doctor because her family owned an optical for many years. It was something she thought made sense to pursue and take after her family's career history. While at FIU, Mrs. Lopez was given an opportunity to explore the medical aspects of the school and teach a class. It was from that moment on that she instantly knew that teaching was what she truly loved. She started teaching biology and English, and later found her passion to be teaching English literature and writing. Here at Gables, Mrs. Lopez began teaching intensive reading, but after a while, decided she needed a drift and that's where Debate came in! Ever since she stopped teaching debate, she has been teaching inquiry skills for the last 5 years. A day in her classroom includes a variety of intriguing class discussions and learning all about the rules of writing/grammar. "Mrs. Lopez teaches us how to write step-by-step so we gain an in-depth knowledge of how to do each step quickly and successfully. It makes the writing process much easier when putting all the pieces together, " freshman Christie Serio said. When balancing her family, and her students, Mrs. Lopez's #1 tip is time management. Managing her time wisely is a task she is still trying to figure out. She feels it's a life long learning process. The key is learning to structure a teacher's life at school and at home. "Learning to manage your time properly, took me a while to learn , and I to this day think I'm in the process of it because still they (work and family) sometimes overlap," Mrs.Lopez-Ponce said. Almost everyday you can spot Mrs. Lopez's 2-year old daughter at Gables' very own Little Cavaliers Preschool."I love the child's learning opportunity, the social skills they develop, and the structure of the program," Mrs.Lopez said. The spontaneous love for teaching and a desire to be an outstanding mother places Mrs. Lopez as a very caring teacher and someone who is willing to put forth maximum effort to ensure that her students and family are truly happy.
About the Contributor
Albany Muria, Editor
Albany Muria is a senior in the IB Program at Coral Gables Senior High. She couldn't be any happier to be a Cavalier and a part of the CavsConnect staff...