Spring Your Way Into Fashion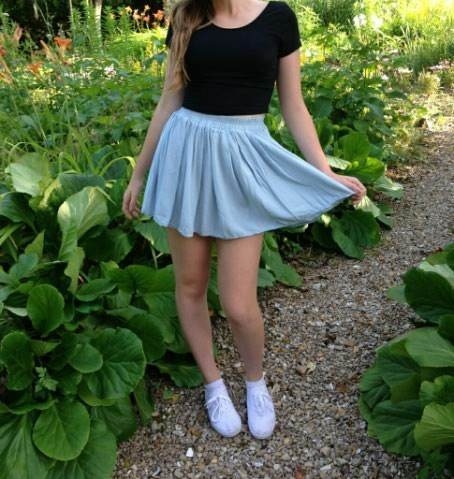 Hang on for a minute...we're trying to find some more stories you might like.
Come winter, over-sized sweaters, trendy scarves, and even boots are the go-tos for the chilly season. Compared to the pale winter pallets, the transition into spring fashion screams out for a splash of color. Many of us would define winter as a dull-colored season, but have no fear, because spring season is almost here.
A must-have for this upcoming spring season are colorful dresses. With the cold season coming to an end, dresses are effortless to wear while still making you look cute. They can be worn in light colors such as teal, mint, light pink, or even white. Dresses in bold, vivid prints also add a vibrant dazzle to your look.
"I usually like wearing dresses because they are really casual, and you can wear them almost anywhere. I wear dresses to go to  holiday parties, or to go to the mall with my friends," freshman Ana Truccolo said.
Besides looking confident while wearing one, skirts complement any body shape. Skirts are also a clothing item ideal for the spring time. They are available in any lengths. For example, try wearing a skater skirt for a more casual look. On the other hand, if you are going to a Girls' Night Out dinner with your best friends, try wearing a maxi skirt(a long skirt that goes down all the way to your ankles). These are also available in many colors and prints to satisfy your preferences. Whether you are planning to wear a skater skirt or a maxi skirt this spring, you are guaranteed to look sophisticated with an added fun pop of color.
"Considering we live in South Florida, and the weather is usually really hot, I like to wear the circle skirts because they are short and come in different colors; it's a great way to incorporate different styles. I also love maxi skirts, they are pretty awesome because they are super comfortable, but it's also really pretty and elegant," freshman Olivia Field said.
Consider cutting your old jeans and transforming them into fashionable shorts. As hard as it may sound, it only requires an old pair of jeans, scissors, and studs, or even lace. Not only will those shorts be made to your preference, it will look exactly how you want it to. Studs add a edgy look to your outfit, while lace looks more feminine and romantic. Don't forget the ombre shorts, or shorts of bright colors; those are extremely popular during the spring/summer.
"Colored shorts give a feeling of happiness due to their bright colors, which is one of the main feelings spring itself comes with," sophomore Barbara Jimenez said.
Spring is all about flowers, and this season crop tops are too. Generic crop tops can be worn with anything high-waisted, or even skirts. They are also available many colors ,and are a simple piece of clothing that complement any outfit. The most popular ones right now are flower-patterned. Wear one with a single-colored skater skirt to create the perfect spring outfit.
"I like wearing crop tops on warm days, and almost always I pair one with either high-waisted shorts or a skirt," senior Arlet Alegre said.
Aside from these fashion tips, always remember to be comfortable in what you will be wearing. For this upcoming spring season, go out and rock those skater skirts, and wear bright dresses that will catch everyone's eyes. Just let your personality shine through your clothing, and don't be afraid to try something new.

About the Contributors
Albany Muria, Editor
Albany Muria is a senior in the IB Program at Coral Gables Senior High. She couldn't be any happier to be a Cavalier and a part of the CavsConnect staff...