A Taste of Mexico North of the Border: Taco Rico
Our Rating: A
For decades Miami has been known to be a cultural melting pot, largely due to the vast array of coexisting cultures that have planted their roots and now call the city their home. As a result, today we see a strong Mexican presence within the city, especially within the realm of food. Giving truth to these words is Taco Rico, a local restaurant chain that has made a name for itself as an authentic Tex-Mex franchise.
Located just a few blocks away from school, off of Le Jeune Road and South Dixie Highway, Taco Rico's proximity and affordability make it an iconic after-school lunch stop for Gables students. Ever since 1992, Taco Rico has provided the Coral Gables community with a casual, family-friendly homestyle Tex-Mex eatery. The restaurant's casual environment is great for both those in a hurry and those who want to sit and enjoy a nice meal without having to dress up. In addition, Taco Rico's prices rarely exceed ten dollars, and with its wide variety of delicious menu items, it serves as the perfect lunch or dinner stop for anyone on a budget.
"Taco Rico is the most affordable Mexican restaurant in Miami, and it serves as my temple for good food. It is easily one of my favorite restaurants on the planet," senior Dylan Carol said.
One of the most popular items on the menu, the Three-Taco Platter, includes, as the name suggests, a rack of three tacos with your choice of beef, beans, chicken, pork or steak. The platter is also served with a side of yellow rice, refried beans, chips and salsa. The chicken taco platter is a classic; one order includes three tacos with seasoned chicken that is delicately wrapped inside warm, soft tortillas filled and then topped with crisp lettuce, juicy tomatoes, cool sour cream and fresh guacamole. This favorite item always satisfies since one order brings a large quantity of top-notch quality food that fits anyone's bill at under ten dollars.
Another house favorite is the classic Quesadilla Platter, which also gives customers the option to choose from beef, beans, chicken, pork or delicious spinach and mushroom, a special selection made for those who choose to live vegetarian lifestyles. The dish is served between two warm tortillas filled with delicious, gooey, melted cheese. As always, you are served a side of yellow rice, refried beans and chips that can be dipped in any of their wide variety of salsas.
"Taco Rico for me is one of my favorite places to go because their menu contains an entire vegan section, filled with quality options like the vegan tacos," senior Sofia Villaroel said.
Aside from lunch specials like these, Taco Rico also offers a variety of larger dishes that are perfect for dinner. An example of this is the Chipotle Chicken Pasta, a fairly large portion of penne pasta topped with a creamy chipotle sauce that's got just the right amount of heat. Pieces of chicken, pico de gallo and shredded cheese are stirred into the sauce, complimenting the pasta and bringing the dish to near perfection. As a pasta aficionado, this dish is one that I would highly recommend; the large portion size and exquisite taste are perfect for anyone who wishes to thrill their taste buds.
Essentially, Taco Rico is an exceptional restaurant that is suitable for a wide variety of customers. It is a very welcoming and family friendly place where all can come together to enjoy delicious authentic Tex-Mex food at reasonable prices. Furthermore, since the restaurant is so close to Gables, it becomes an even better option for an after-school snack or a late lunch. The sheer amount of dishes to choose from also provides customers with a wide range of options to choose from; from sizzling fajitas to juicy wet burritos, Taco Rico makes it possible for nearly everyone to find something they like. All in all, Taco Rico is the place to be throughout the school year, so don't miss out!
About the Contributors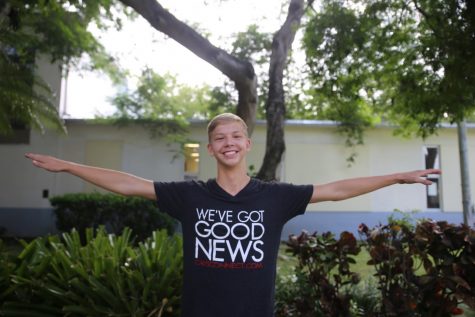 Trey Riera-Gomez, Staff Writer
Trey Riera-Gomez is a senior in the International Baccalaureate (IB) program at Coral Gables Senior High School. This being his first year involved, he...