Rollin' Down to the Farm
Hang on for a minute...we're trying to find some more stories you might like.
Our Rating: A++
On Nov. 1, we anxiously awaited the opening of one of South Florida's sweetest comfort spots: Knaus Berry Farm. Crowds gather hours before the little shop opens just so they can have first dibs on the freshly baked foods. Knaus Berry Farm offers a wide range of  baked bread rolls, smoothies, pies, jams, cookies and cakes; however, their most popular item is the delicious cinnamon roll, while their most popular attraction is the strawberry field.
Knaus Berry Farm first opened back in 1956 and opens seasonally from November through mid-April, following the Redland farming season. This is one of the main reasons as to why there are hour-long lines just to buy their treats. The lines wrap around the block once, sometimes even twice, on the weekends. The farm is closed on Sundays and popular holidays, but besides those few exceptions they are open from Monday through Saturday from 8:00am to 5:00pm. They do have a rule of availability: they call it a day once the food runs out. The workers only bake in the morning since they sell out of pastries so quickly, but this also guarantees that there are always fresh pastries for sale, which is a nice change of pace from the taste of prepackaged cakes from standard industrial bakeries.
"When I visited with my mom, I was shocked by the simpleness of it all. Living in Kendall, I am not used to seeing the farmland. We ordered a dozen cinnamon rolls and a pecan tray, along with some smoothies for the ride back. It was the best roll I have ever eaten. I cannot wait to go back," sophomore Laura Garcia-Ortiz said.
When visiting the Farm, there is an array of options to choose from. If you want something sweet, then definitely try the famous, mouth-watering cinnamon rolls that are sure to leave you satisfied. If you are looking to bite into something crunchy and chewy, ask for a family sized pecan roll tray. Not feeling the rolls? Not a problem. There are assorted pies such as apple, shoo-fly, pecan, key lime and guava. Talk about options! They also offer different kinds of cheesecakes and traditional cakes also made fresh in the mornings. Cakes to choose from include a light and airy angel food cake, a sweet and sticky upside down coconut pineapple cake and a rich black bottom cake. These cakes not only look amazing, but also taste heavenly. Chocolate chip, oatmeal raisin, key lime and peanut butter chocolate chip cookies are also sold throughout the day along with homemade strawberry jam. If all of these options are not appealing to your taste buds, give their crisp bread pudding a try!
If you are feeling a bit parched, try their strawberry milkshakes that are made with freshly picked strawberries that are grown right around the corner. Knaus Berry Farm also offers ice cream for those hot Miami days. Coffee lovers need not fret either—they offer an espresso blend from Bald Bakers.
"I go regularly, or at least try to. Being a bit far I do not get to go as often as I like. What I'll usually do is gather my friends on an early Saturday morning and drive down and try to be one of the first at the door because if not, oh boy. But trust me, it is so worth it. My favorite on the menu is the pecan rolls, although the angel cake is what I'll usually eat at the store and save the rolls for later," senior Angel Perez said.
The farm tries to keep it simple so they only accepts cash, which could lead to some inconvenience. Although with prices as affordable as they are, it's certain that anyone can walk away satisfied and content with their purchases. This is the reason as to why hundreds of people are willing to wake up at the crack of dawn, or spend hours waiting in what seems to be a never ending line. Luckily, there are quite a few things to look forward to at the end of the line.
Knaus Berry Farm is definitely the place to be. For all of those who have a sweet tooth, or those who just love bread and fresh produce, hurry on down and do not miss out!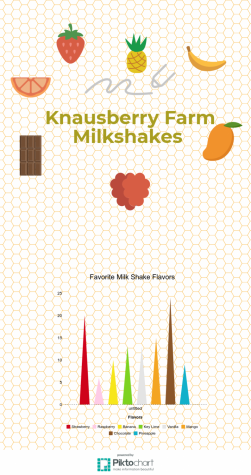 About the Contributors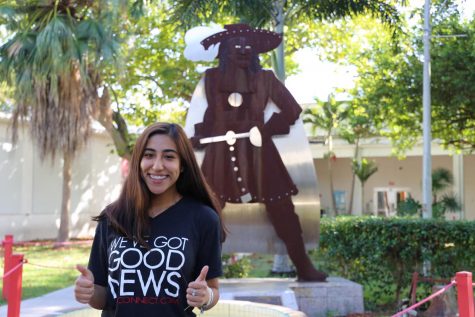 Jesse Zambrano, Spotlights Editor
Jesse Zambrano is a senior in the International Baccalaureate (IB) program. When she arrived to the US, it was clear to Zambrano how important it was to...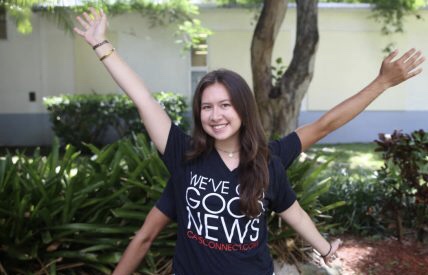 Maria F. Estrada, Editor-in-Chief
Maria Estrada is a senior in the International Baccalaureate program at Coral Gables Senior High who loves a good debate and cup of coffee. As her role...