UberEATS vs. Postmates
Hang on for a minute...we're trying to find some more stories you might like.
Our Rating: UberEATS: B-, Postmates: A
UberEATS and Postmates are companies involved in the food delivery industry, and have revolutionized takeout.  Gone are the days of takeout being limited to pizza and Chinese.  These services deliver from restaurants ranging from Subway and MyCeviche to higher end places such as the Eating House and Bulla.  Below, we break down what each service has to offer by putting them to a test and placing the same exact order from MyCeviche on UberEATS and Postmates at the same time.
What to Order:
Postmates:  The variety of that Postmates has to offer is hard to beat.  Customers may order from a large list of nearby restaurants or cafés, but are not limited to food.  Delivery is also available for Walgreens, lululemon athletic clothing and Sephora, among many others.  When ordering food, users order directly from the restaurant so the full menu is available for them to choose from, as well as options to customize.
UberEATS: UberEATS has a limited variety of food, as compared to the large selection that Postmates has to offer.  This service has a select few restaurants that change every day.  Additionally, when ordering from UberEATS, customers order from the service directly, not the establishment, therefore the menu is often times incomplete.  Not only are the menu choices limited and there is no customization option, but they do not offer anything other than food.
"Ordering from these services is an overall good experience, very fast and convenient and nice since you can order everything on an app and don't have to talk to people on the phone, which can be scary," freshman Julianna Goldfarb said.
Winner: Postmates
Price:
Thankfully, neither service tried to raise the price of the meal and kept it true to MyCeviches' menu.  While the cost of the food itself remained the same, the delivery fee for Postmates was $1.51 more expensive than that of UberEATS, along with the service fee being higher.  Below are the price comparisons for an order consisting of an octopus ceviche bowl with added avocado.
Postmates: The ceviche bowl ordered cost a mere $11.40, but the order total ended up being $18.93.  Postmates charged a 9% service fee, as well as a $6.50 delivery.  After the order is delivered, this service asks for a tip that goes directly to you driver.  Adding a 10% tip made the final total
UberEATS: Like Postmates, the ceviche bowl cost $11.40.  Unlike the aforementioned service, UberEATS only charges an 8% service fee, and the delivery cost $4.99, as well as not even allowing the option for tips making the total come out to $17.30.
Winner: UberEATS
Delivery:
Postmates:  Before placing the order at 6:18 P.M., the estimated delivery time was 45 minutes.  Once the order had been accepted, the time was cut down to 28 minutes, making the estimated arrival time 6:46 P.M.  About 2 minutes after having ordered, the Postmates delivery person had to call to ask what was wanted on the order, despite these things all being clearly selected.  Nonetheless, at 6:34 P.M. a notice informed that the food would arrive within 10 minutes, 3 minutes before the very quick delivery estimate.  At 6:45 P.M., the food arrived,  the Postmate came to the door and was extremely cordial, as well as having gotten the order correct.
UberEATS: The estimated delivery window before the order was placed was anywhere between 32 and 43 minutes, making it slightly faster than the estimate Postmates had given.  Once the order was placed at 6:35 P.M., the estimated arrival time was said to be 7:09 P.M.  This made the delivery time 35 minutes, which despite falling on the shorter side of their delivery window, was 7 minutes slower than Postmates.  The food finally arrived at 7:22 P.M., 13 minutes after the estimated arrival time and 47 minutes after the order was placed.  Not only did the food arrive later than expected, the amount of time it took fell outside the range of time given for delivery.  Despite having arrived extremely late, the order was complete and the driver even made sure to include a fork and napkins.
"I ordered from Postmates once and the food took a really long time and they brought me the wrong order as well so I wouldn't order from this service again and I wouldn't recommend ordering from there for anyone else," sophomore Sutton Payne said.
Winner: Postmates
Both services have done a very good job in making sure that users are able to easily track their orders, incorporating push notifications to let their customers know what is happening with their food every step of the way.  What UberEATS lacked in speed and variety, they made up for in quality and low price.  Postmates was able to make up for their higher prices in speed and variety, putting it ahead of UberEATS.  Overall, the services make life easier for those who use them and while other experiences with these apps may vary from customer to customer, what was seen in this instance makes our rating for UberEATS a B-, and the rating for Postmates an A.

About the Contributor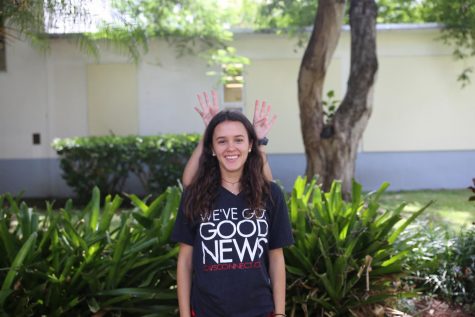 Natalia Torres, Copy Editor
Natalia,"Nati", Torres is a senior in the International Baccalaureate (IB) program and is very excited to continue at Gables as part of the CavsConnect...