Drake Drops Heat
A closer look at Drakes' compositions
Hang on for a minute...we're trying to find some more stories you might like.
Our Rating: B+

Aubrey Drake Graham, most commonly known as Drake, released two hot new songs this past week. These new tracks have been raved about across social media, making fans excited to hear what he has in store for them. "God's Plan" and "Diplomatic Immunity," tracks from his "Scary Hours" EP, give real insight into Drake's emotions and past relationships with people he has encountered in his life and how they have affected him. Much like his other songs, "God's Plan" and "Diplomatic Immunity" can be found on all music platforms such as Spotify, YouTube, Tidal, Apple Music and a few others. Last November, Drake dropped a music video with 21 Savage, "Sneakin" This collaboration surprised fans since it was the first song ever dropped where they were the only ones on a track. Will Drake and his team produce a music video for these two hits?

In 2006, Drake released his first mixtape, "Room for Improvement." Since it was such a success, he began to release more songs through his website and Myspace page. In 2009, he joined Lil Wayne's record label, Young Money Entertainment, where he collaborated with artists such as Kanye West, Jay-Z, Danny!, Lil Wayne, Mary J. Blige, Trey Songz and Jamie Foxx.

"It is a fun, feel good song. I admire how Drake makes killer moves in the rap game," senior Ewan Hennessy said.

In "God's Plan," Drake talks about the lifestyle he is currently living and very much enjoying. The phrase that seems to be on everyone's mind has definitely been, "She say, 'Do you love me?' I tell her, 'Only partly' / I only love my bed and my momma, I'm sorry." Besides the catchy tune, "God's Plan" has been a hit in the meme community as it can be used to describe a person's feelings regarding a relationship. This was probably intentional, and it seems as if Drake is trying to convey a message to us. It is well known that Drake was in a relationship with Rihanna, although the details of their separation have not been disclosed. However, he shares how he is feeling, which is not surprising since every artist tries to incorporate their true emotions in everything they write. Moreover, in "God's Plan," he also feels that "they" are wishing for him to do badly in life. Who could Drake be referring to? Haters? Family? Industry peers? Frankly, it could be all of the above. Although as catchy as the beat may be, it feels a bit too mainstream. It seems that the message he is trying to convey to his listeners is one that has already been shared over and over again. Drake could have provided more, and it is to be expected from an artist that has proven that he can reach deep down and create songs with meaningful messages. But maybe this was done intentionally? Maybe Drake wanted to drop a song that would just fit in with the theme of the current music industry. Despite this, fans seemed to have look past this because "God's Plan" has broken the global Apple Music record for the biggest opening day with 14M streams. Fortunately enough, the life he has earned seems to all fall under God's plan, hence the name of the song. "God's Plan" is a fast paced song, with the same beat sustained throughout the song, with the exception of some high notes strategically peaking with lyrics.

"I feel as if it is a good song. It sounds a lot like his other material. But to me, it feels as if he is building up to something bigger," sophomore Isabella Lopez said.

[powr-social-feed id=1a4cd1f2_1517026351166]

"Diplomatic Immunity" is more of a rap song which is in essence, just Drake bragging about his successes. In this hit track, Drake airs out a couple of grievances and once again mentions personal experiences. Drake incorporates a punch line directed towards Joe Budden, a fellow rapper who expressed his "disappointment" in Drake's past album, "VIEWS." Since then, it seems that they have not been on good terms, as shown on social media and hidden punches in each other's songs. In "Diplomatic Immunity," Drake says, "I've seen buddin' careers turn to sit around and talk about other careers, judgin' their peers." Budden then went on his podcast and dedicated two episodes to Drake and the break down of his song "4 PM in Calabasas," which according to Budden, contains dissing lines meant for Budden. However, even though Drake addresses his feud with Budden several times, the song itself does not revolve around said beef. One can only wait and see how Joe Budden will respond to the lyrics, as he has done so in the past. As the song advances, Drake reveals a piece of information that some fans may not have known. Drake reveals that he lost "a J Lo." Could he be comparing a past lover to the one and only Jennifer Lopez? Or is this a meaningless lyric that is being read into too much? Aside from the sneaky disses and cryptic content, Drake talks about the hardships that can come with living an extravagant lifestyle and how sometimes it is easier to be in company with his reflection. He ends the song with "Whenever, wherever, OVO will always be together like Shakira," meaning that OVO fans, a name forged with the brand he has created, will continue to be there through the tough times, but most importantly through the good times.

When Drake released "More Life," he apologized for "VIEWS," an album which he felt fit in too much with the status quo, something Drake has never wanted. He promised he would take time off and come back not only refreshed but with a goal in mind to produce good, quality music that the fans deserved. He has been living life, traveling and enjoying all that he can. So by dropping these two hits, is he ready to get back into the game? In reality, not much time has passed since the release of "More Life," 289 days to be exact. Has this proven to be enough time? Maybe his future songs will tell. But for now, we will have to agree to disagree.
About the Contributors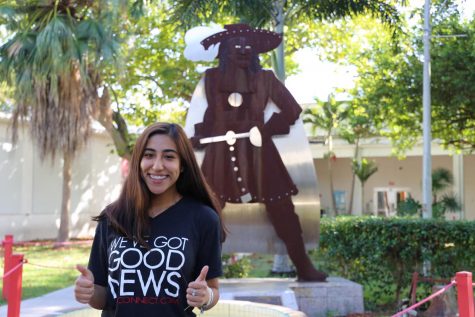 Jesse Zambrano, Spotlights Editor
Jesse Zambrano is a senior in the International Baccalaureate (IB) program. When she arrived to the US, it was clear to Zambrano how important it was to...