"Making It Shine" on the Netflix Home Page
Hang on for a minute...we're trying to find some more stories you might like.
Our Rating: A+
Release Date On Netflix: Nov. 2
After years of recommendation, "Victorious", one of Nickelodeon's classic hit shows, finally made its way onto Netflix. Previously, many Nickelodeon shows were able to be streamed on Netflix, but some were later removed. With the release of the Disney+ streaming application released on Nov. 12, the greatest shows and movies from Nick, like "Victorious", are making a swift return to Netflix in light of the competition.
The return of this childhood classic for teenagers has found incredible success. The return of "Victorious" to the TV screen has found social media networks blowing up with memes about the show. On Twitter, TikTok, Instagram and Snapchat, people all around the world have been reliving the memories one of the most iconic shows of their childhood. Not only is the show still funny to everyone, it seems even funnier than it was before. Many jokes that were made on the show that when everyone was younger, they did not understand. Now that most of the viewers are in high school, they notice the innuendoes hidden in the show and relate it to their personal high school experience.
"When I was little, I did not notice all the hidden jokes in the show and, since I do now, it makes it so much better as I rewatch it. On social media, many people talk about things that we missed and it is so funny how oblivious we were," junior Addys Plata said.
Bonding within teenagers has also been such a big asset to this comeback. Back when everyone first watched the show, everyone was okay with Tori, the main character, being epitomized throughout all of the show's seasons. Now, everyone sees Cat and Jade, two other main characters, to be more deserving of the spotlight. Many bond over the fact that the underdogs were not given their chance to shine, and this is a big spark on social media. Currently, there is a bandwagon of disliking Tori and, just the same, there are trends on Twitter and TikTok about Cat and Jade essentially being more talented.
Another thing that catches the eye of many teenagers is the way the characters on the show post on their social media platform, "The Slap." On the show, the characters essentially tweet what is going on in the day and follow it with how or what they are feeling. People on Twitter have imitated this as a way to make Twitter similar to "The Slap", showing how Victorious has been bringing people together, especially online.
''It is cool that it came back. I always loved the show, but now it is different because the characters' real life personas do not match. I am a little indifferent about it, but it is a nice source of nostalgia," senior Rodney Michel said.
The glorious comeback of this show has positively impacted so many people, and reliving the memories one had as a child is incomparable to any other experience. Now since everyone has aged, the show is both funnier and more relatable, and social media provides an easy mechanism to poke even more fun at the simplest things about the show. Online trends based on the show have been made daily since its revival, bringing people from all around the world together. Undeniably so, Nick and Netflix were looking out for all of us when they put their heads together to reintroduce this childhood classic and, it is fair to say, the response has been victorious.
[powr-twitter-feed id=501927b7_1574042849309]
About the Photographers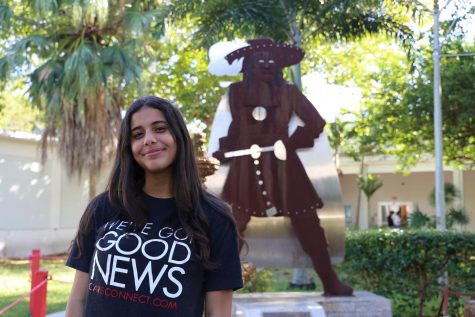 Ingrid Moises, Staff Writer
Ingrid Moises is an International Baccalaureate (IB) sophomore at Coral Gables Senior High. This being her first year as a staff writer for CavsConnect,...