"Grey's Anatomy": Back for Another Season
Hang on for a minute...we're trying to find some more stories you might like.
TV Show: "Grey's Anatomy" (Season 16)
Release Date: March 27, 2005
Director: Shonda Rhimes
Starring: Ellen Pompeo (Meredith Grey), Justin Chambers (Alex Karev), Chandra Wilson (Miranda Bailey), James Pickens Jr. (Richard Webber), Kevin McKidd (Owen Hunt), Jesse Williams (Jackson Avery), Caterina Scorsone (Amelia Shepherd), Camila Luddington (Jo Karev), Kelly McCreary (Maggie Pierce), Giacomo Gianniotti (Andrew DeLuca), Kim Raver (Teddy Altman), Greg Germann (Tom Koracick), Jake Borelli (Levi Schmitt) and Chris Carmack (Atticus Lincoln)
Rating: A+
For the last 16 seasons of "Grey's Anatomy," viewers have watched the characters lose their closest friends and spouses, go through unimaginable amounts of trauma and most importantly, perform surgeries on the wildest of cases. Now, they are back for another season. 
"Grey's Anatomy" is, to date, the longest running prime time medical drama on TV, having now returned for their 343rd episode, titled "Nothing Left to Cling On" during its 16th season premier. 
This medical drama focuses on the life of five surgical interns and their respective supervisors. Although the show paves way for the character development of all of the surgeons, the plot line tends to focus most on Meredith Grey, an aspiring surgeon who is the daughter of world renowned surgeon Ellis Grey.
Season 15 ended with various major cliffhangers, a typical occurrence for "Grey's Anatomy" season finales. Viewers were left on the edge of their seats after a heavy fog was interfering with the immediate care of patients. The season also ended with one doctor facing serious jail time and the possible removal of their medical license for a well-intentioned medicare crime. 
"Although the show gets sad and upsetting a lot of the time, I like 'Grey's Anatomy' because I never know what is going to happen. I feel like they randomly kill off characters, which keeps the show interesting and mysterious," junior Sara Ebrahimi said.
Similarly to the start of every new season of "Grey's Anatomy," season 16 brought along very shocking changes. The biggest surprise was the expulsion of four doctors from Grey Sloan Memorial Hospital due to them having committed fraud. Long time viewers of the show found this scene to be unforeseen, judging by the fact that chief Bailey has had very close ties with all four of these gifted surgeons who had been doctors at this particular hospital for all of their medical careers.  
Throughout the episode, the acting was extraordinary, as it has been for the past 14 years. The quality this show has exhibited has managed to strengthen and deepen over time. Director Shonda Rhimes uses her platform and insanely talented staff to not only provide the audience with the medical drama they crave, but also as a way to raise awareness for sensitive topics such as healthcare corruption and LGBTQ+ rights.
"The show caught my attention and every season the creators manage to shock you and keep you on the edge of the seat. What I like about the show is that it really is unexpected, it doesn't follow the cliché of happy endings all the time but they'll actually kill of some of the most loved and main characters which is heartbreaking at the time, but shows how engaged we become as an audience," junior Erika Del Valle said.
As opposed to other "Grey's" season premiers, it was surprisingly a happy go lucky episode which leads viewers to infer that this is the calm before the storm. After 14 years of being on air, director Shonda Rhimes never fails to leave fans wondering as to what will happen next. This series illuminates the fact that neither medicine nor relationships can be defined in black and white. Real life only comes in shades of grey.
[powr-twitter-feed id=a813d5d8_1570986365276]
About the Contributors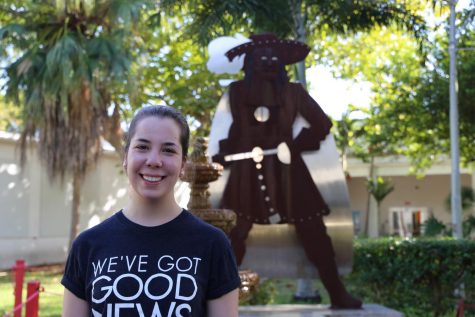 Natalie Abrahantes, Staff Writer
Natalie Abrahantes is a rising junior in International Baccalaureate (IB). She was born in Miami and raised by a Cuban family. This year, her personal...