The Umbrella Academy: A Must Watch
Release Date: Feb. 16, 2019
Director: Andrew Bernstein, Peter Hoar, Ellen Kuras, Stephen Surjik, Jeremy Webb
Number of Seasons: 1
Starring:  Tom Hopper (Luther Hargreaves), David Castañeda (Diego Hargreeves), Emmy Raver-Lampman (Allison Hargreeves), Robert Sheehan (Klaus Hargreeves),  Aidan Gallagher (Number Five)
Our Rating: B+
"The Umbrella Academy" originated in the early 2000s but, as of early 2019, Netflix has taken the American comic book to the big screen. Although there are slight changes throughout the series in the adaptation when compared to the original comic book plot, Netflix did a great job in keeping true to the original story.
The plot revolves around seven kids who grow up together after being born on the same day. Almost 43 babies were born on the same day all around the world from women who became pregnant on the exact day they were born. After their father's death, this dysfunctional family reunites once again to discover the mystery behind their father's passing.
"I couldn't stop myself from watching all of 'The Umbrella Academy' in the same day because it was that type of show that you can't help yourself self from binge-watching because it is so good," senior Victor Hernandez said.
The show itself consists of one-hour-long episodes. This length might be a dealbreaker for some looking into new shows to watch, but "The Umbrella Academy" is worth every second of each episode. It is the type of show that keeps you questioning what will happen next at all times. Due to its stagnant beginning, it might just seem like your typical reoccurring superhero show that everyone has watched before, but after finishing the first episode, the level of quality of the show is made clear.
Most superhero shows tend to go off the plot of having a different villain or problem in each episode for the hero to defeat or solve. However, "The Umbrella Academy" completely deviates from this typical plot. What makes the show so appealing is its dark yet humorous tone. The plot can become somewhat complicated to understand at first since it consists of flashbacks from the characters' childhoods, but it becomes clear as you continue watching.
Overall, "The Umbrella Academy" is a must-watch for those are tired of the same tired superhero plots that their television shows typically derive from. The directors had a unique way of laying out and modernizing the show to draw in more viewers.
About the Writer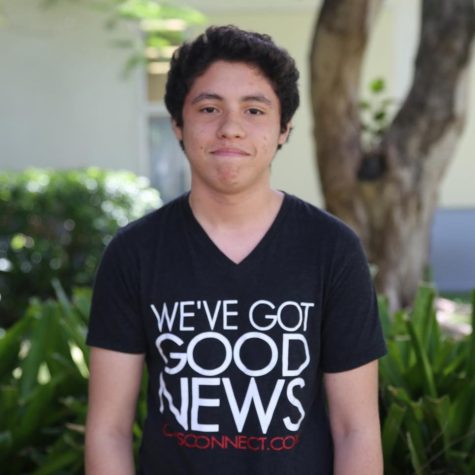 Miguel Lemus, Staff Writer
Miguel Lemus is a junior in the International Baccalaureate (IB) program at Coral Gables High School.  Lemus is excited to see what the school year will...