The Best Animation of Our Nation
Hang on for a minute...we're trying to find some more stories you might like.
Archer
Release Date: September 17, 2009
Number of Seasons: 8
Created By: Adam Reed
Starring: H. Jon Benjamin (Sterling Archer), Aisha Tyler (Lana Tane), Jessica Walker (Malory Archer), Chris Parnell (Cyril Figgis), Judy Greer (Cheryl Tunt), Amber Nash (Pam Poovey), Lucky Yates (Dr. Kreiger)
MPAA Rating: R
Our Rating: A+
Introducing secret agent Sterling Archer, codename Duchess. H. Jon Benjamin voices Archer, our main anti-hero. Along with his other co-workers, like the unconfident Cyril and hothead Lana, they all form a perfectly dysfunctional group of clashing personalities. The art style is very realistic yet cartoony, and the show is filled with action and fast-moving scenes filled with violence. The show is flexible, and its characters (along with its setting) allow it to flourish. "Archer" has the three A's: action, adventure, and adrenaline. Whether you watch it or not, it is still a better choice than "Pacific Heat."
Family Guy
Release Date: January 31, 1999
Number of Seasons: 16
Created By: Seth Macfarlane
Starring: Seth Macfarlane (Peter, Brian, and Stewie), Alex Borstein (Lois), Seth Green (Chris), Mila Kunis (Meg)
MPAA Rating: TV-14
Our Rating: F+
Remember when "Family Guy" was good? Pepperidge farm remembers. Nowadays, however, "Family Guy" has become no more than a husk of what was once a fantastic show. The show overall shows that little to no effort is put into the writing anymore, although their animation has become significantly smoother. The characters are not relatable and just seem like a bad attempt to make us laugh. The show exhausted its shock humor, thus it now barely passes as comedic. Lots of viewers only tune in for the "Road to" series of episodes since they seem to have a tad of decency left. Like its first initial, the show deserves an "F."
BoJack Horseman
Release Date: August 22, 2014
Number of Seasons: 4
Created By: Raphael Bob-Waksberg
Starring: Will Arnet (BoJack Horseman), Aoron Paul (Todd Chavez), Alison Brie (Diane Nguyen), Amy Sedaris (Princess Carolyn), Paul F. Tompkins (Mr. Peanutbutter)
MPAA Rating: TV-MA
Our Rating: B-
With the voice of Will Arnet, the creators recount the stories of the failed actor horse BoJack and his frenemies. The surrounding cast is made up of both hilarious humanoid/animal hybrids, and regular humans. In this Netflix original, BoJack has a lot of issues related to his self-esteem, issues stemming from his childhood, and the show does a marvelous job of showing different mental issues. However, when relating to BoJack, it tends to display a trend and there is an obvious pattern; eventually, the show becomes a bit repetitive. In terms of animation, the show is well drawn, and it shows that no one is "Hollywoo" is transparent. In addition, the characters are relatable which just serves as another reason to watch BoJack Horseman.
Rick and Morty
Release Date: December 2, 2013
Number of Seasons: 3
Created By: Justin Roiland, Dan Harmon
Starring: Justin Roiland (Rick Sanchez and Morty Smith), Chris Parnell (Jerry Smith), Spencer Grammer (Summer Smith), Sarah Chalke (Beth Smith)
MPAA Rating: TV-14
Our Rating: A
While most have probably seen the infamous "Pickle Rick" meme, they have probably never seen the show itself. "Rick and Morty" is known to satire the typical sitcom. The show consists of a dysfunctional family; Beth and Jerry are married with two children – Morty and Summer – that often accompany their grandfather, Rick, in Sci-Fi adventures. The show is well written, and the creators of the show put a lot of effort into the detailed animation and weave meaningful dialogue into the script. If you are looking for something to watch, consider "Rick and Morty": it is a rick-tastic choice.
"I think animated television series are just wonderful, absolutely wonderful mostly because there is pretty much no limit to what they can do. Take "Regular Show" for example they throw a bunch of random stuff together and make an episode out of that. "Gravity Falls" and "Rick and Morty" are shows that I think you cannot recreate as a live action because of the out-of-this-world themes. What I love most about these kinds of shows is that they take you away from the norm and give you a break from the world," sophomore Madeline Palacios said.
F is For Family
Release Date: December 18, 2015
Number of Seasons: 2
Created By: Bill Burr, Michael Price
Starring: Bill Burr (Frank Murphy), Laura Dern (Sue Murphy), Justin Long (Kevin Murphy), Haley Reinhart (Bill Murphy), Debi Derryberry (Maureen Murphy), Sam Rockwell (Vic)
MPAA Rating: TV-MA
Our Rating: B+
"F is for Family" is a Netflix original brought into existence by the famous comedian Bill Burr. Also voicing the main character, Frank Murphy, Burr brings a lot of his typical crude humor to the show. The show tells the story of a middle-class family that lives in the wonderful era that was the 1970's; the twist is that everyone in the family not only has flaws, but also has good qualities, which makes them completely different from the typical sitcom family. The characters have bad sides to them, which makes them seem human and well-rounded. The only bad part of this show might be its animation since it sometimes seems bland, but the characters quickly make up for it though.
"Well, animated shows are usually really beautifully drawn and the dialogue is funny and I enjoy watching them; they serve as a visual escape from reality, and let you sit down and relax while still viewing a well-thought-out show," freshman Maria Abrahamyan said.
All in all, these shows are perfect examples of the variety of animated shows that are still available to watch. These shows all have similar qualities, but they are still unique in their own way. Animated television is still a respectable and flourishing genre.

About the Contributor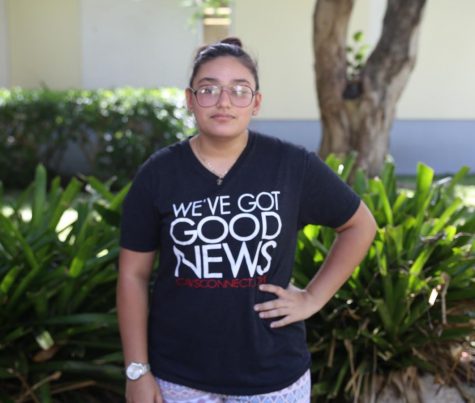 Daymara Fernandez, Staff Writer
Daymara Fernandez is a staff writer for CavsConnect. This is her second year in Coral Gables Senior High and a sophomore in the International Baccalaureate...