KathleenLights: The Channel For Every Makeup Lover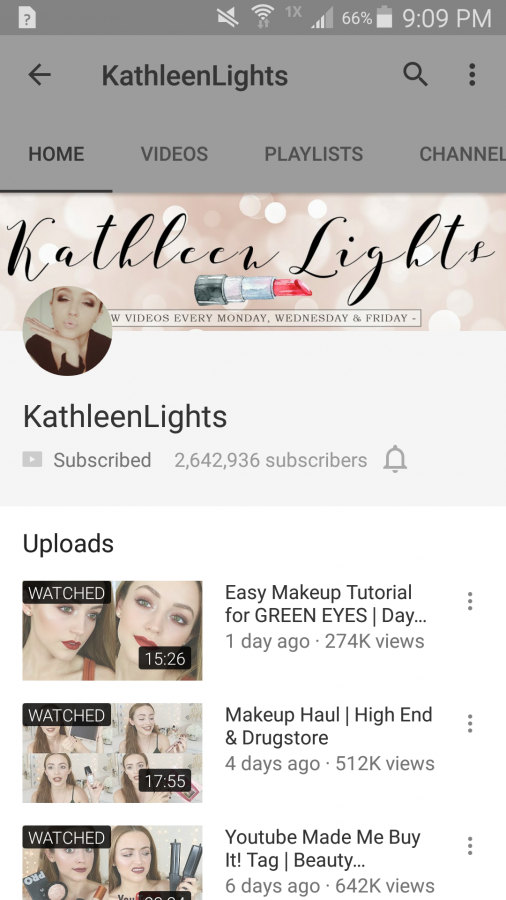 Our Rating: A
KathleenLights is a makeup channel and beauty guru on Youtube that is dedicated to giving reviews on makeup products and creating looks for viewers to recreate. Started in 2013, KathleenLights has over two million subscribers and around 240 million views. But there is one thing about this channel that makes it unique from other typical makeup gurus, and that is Kathleen Lights.
Kathleen Lights is a 24-year old that struggles with anxiety and paranoia and despite all of these obstacles Lights's bubbly personality shows through her videos. The channel's content varies from monthly favorites, tutorials, Kat Chats, "unboxings," reviews and more.
"I really like to watch Kathleen Lights's videos because she's so humble and doesn't act like she is 'famous.' She's super silly and loves what she does. Her videos are exactly what I love to watch and she makes it even more entertaining," sophomore Alejandra Rivera said.
A typical eye makeup tutorial video:
"Kathleen Lights's channel has to be one of my favorite to watch. I actually found her through another channel "Jessismiles" because of a [collaboration] they did … I don't regret subscribing to her," sophomore Jazmin Gonazalez said.
The channel is perfect for those who love makeup or want to learn more about it. Lights's reviews on products are based on her own opinions and experiences while using them. The variety in her videos allows the channel to be one of the most useful sources out there in the makeup world. Lights incorporates drugstore products and high end products to accommodate a larger crowd. Her channel isn't just about uploading makeup but also about her struggles with mental illness. These two topics are something Lights is very open about with her subscribes since she deals with them everyday.
If you are interested in both high end makeup or drugstore makeup, then checkout Light's channel. This channel will be the perfect guide to upgrading your collection.