Honey, He's Home: the Buzzing New Take on Candy Man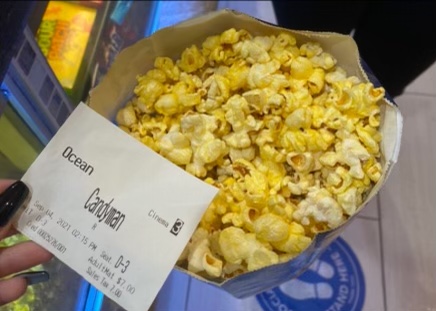 Director: Nia DaCosta
Starring: Yahya Abdul-Mateen II,Teyonah Parris,Nathan Stewart-Jarrett,Colman Domingo
Release Date: Aug. 27, 2021
Our Grade: A-
The new box office hit "Candyman" is a sequel to the original and well received slasher film "Candyman" from 1992. The new adaptation follows a new set of characters as well as a different storyline. The story follows the struggling artist, Anthony and his journey to try to find inspiration for his creative work. This is when he stumbles across the urban legend of Candy Man. After hearing the story, he becomes infatuated with it and begins incorporating it to his art, hence unleashing Candy Man into the world. To activate the curse of Candy Man, participants must say his name in the mirror five times, reminiscent of another popular horror legend, Bloody Mary. The movie's tone is then set to be an eerie thriller that keeps viewers on their feet and afraid of when Candy Man may come out to terrorize the characters next.
"Candyman" does not shy away from its gore. The violence depicted in this movie is what makes it all the more horrifying. Seeing the supernatural entity that is Candy Man pop up on screen always gets heart rates going faster. His staple hook hand and facial and body deformities are all what pull his scare factor off the charts. The special effects makeup done on the chilling monster are so realistic that it makes watchers ponder whether what they are seeing is real or not.
"'Candyman' is one of the first horror movies I've seen in a while that actually managed to scare me. Some parts in the movie were confusing and poorly paced but besides that everything else about this movie I loved," sophomore Valentina Araujo said.
Aside from the movie's well executed horror aspect, it also delivers social commentary. It focuses on mostly gentrification as well as police brutality and touches on topics such as white supremacy, slavery and racism by telling it through folklores. Yahya Abdul-Mateen II and his supporting cast executed their lines and performed their characters so well on screen, which managed to really pull the movie together with grace.
"
The new take on the modern classic saga of candy man was great! I especially liked it towards the end and was hoping to see more of it before it left off on a cliffhanger,"
— junior Anysia Gamez
The cinematography for this film really takes the cake: the shots taken throughout the movie are beautiful and well framed to create its overall frightening feel. Fans of the original can enjoy watching its newer counterpart as it pays homage to the older version by making references throughout the movie.
The film creates a stress-inducing environment that leaves viewers feeling anxious to simply walk by a mirror just in the small chance they might see a Candy Man lurking behind them— not something many new horror movies can do successfully. The effort put into this movie is refreshing and just about everything is executed well. Between the great cast and sporadic jumpscares, "Candyman" is a must watch for all horror fanatics.