"All American" Season 2 Has Finally Reached Netflix
Released: March 17, 2020
Cast: Daniel Ezra (Spencer James), Michael Evans Behling (Jordan Baker), Samantha Logan (Olivia Baker), Monet Mozur (Laura-Fine Baker), Taye Diggs (Billy Baker), Karimah Westbrook (Grace James), and Greta Onieogou (Leila Faisal).
Directors: April Blair
Our Grade: A+
After almost a year of waiting, Season Two of the sports drama television series "All American" was released on Netflix. This season included a welcoming of many adaptations, a new football friend for Spencer, and plenty of unraveling plots within the sixteen episodes.
This show is based on the high school experience of Spencer Paysinger, an ex-football player from the National Football League, who played for the Miami Dolphins, New York Giants, Carolina Panthers and New York Jets. As the episodes were being recorded, Paysinger had helped devise it along with the producer and ensured that it somehow resembled his true experience. Although not every episode of the show is related to his life, important scenes such as Spencer being accepted into Beverly Hills High School, which was in Season One, came from his personal background.
The season began with the Beverly Hills Eagles still celebrating their state championship along with Spencer contemplating one of the most important decisions that could change his entire reputation. Grace James and Spencer's father, Corey, determine family issues and how they will continue to adapt to the changes they have been introduced to.
Throughout the show, the angles and shots were well captured. This helped the audience grasp the character's reaction and emotion after every scene that occurred. This way the audience developed a connection with the characters as they comprehended the plot according to the emotions.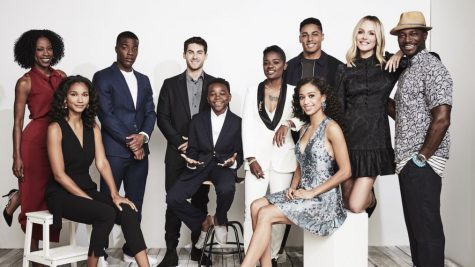 Tension rises throughout the episodes as each character experience their own personal dilemmas. With that being said, each actor maintained and illustrated their characters very well. As a result, the emotions in the scenes were felt across the screen with their audience with all of the ups and downs that each episode brought along. As the season continues, it truly demonstrates each character's strengths and vulnerabilities as they face their personal problems. On the bright side, they always tend to support one another no matter the circumstances nor consequences.
"This new season of 'All American' was mainly about Spencer's internal struggles and how he was able to overcome them with the support of his family and friends and I really enjoyed watching it since it was inspirational in my point of view," sophomore Lizbeth Lorenzo said.
Spencer continues to make important and life-changing choices throughout his personal challenges. A rumor of Tyrone's scripture tends to spread around in the neighborhood as it causes routine changes and more stress in each characters' life.
"Season Two was more interesting than Season One due to the number of events and its intensity along with leaving its viewers at a cliffhanger," sophomore Sofia Alcaide said.
As the season comes to an end, the viewers are left off with a cliffhanger waiting for the next action, which seems as if there is a third season coming. Within these new 16 episodes, the characters continued facing complicated situations which caused more commotion and thrill. Although the season maintained its scenes of fuss, it also included scenarios where its characters were able to show empathy, growth, and inspiration to its viewers.