Sing!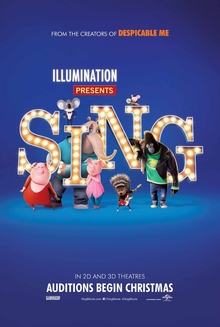 Release Date: December 21, 2016
Director: Garth Jennings
MPAA Rating: PG
Starring: Matthew McConaughey, Reese Witherspoon, Seth MacFarlane, Scarlett Johansson, John C. Reilly, Aaron Egerton, Tori Kelly
Our Rating: B+
The concept of an animated children's movie about a society run by animals is certainly nothing new to the big screen, with films like Zootopia being a huge success. Sing brings a new twist to this concept by adding a singing competition to the mix, comparable to the likes of X-Factor and American Idol. The movie revolves around Buster Moon, played by Matthew McConaughey, a lovable koala who aspires to be a successful theater owner. As his business begins to sink, he tries to save it by hosting a singing competition that he hopes will bring his theater back to its former glory.
"
I thought the movie was great, and the animals were so cute. It made me feel like an actual 3 year old and the music was bearable so it's a win-win for me."
— Guneet Moihdeen
Although the plot can be predictable at times, the back stories of each contestant in the competition lead viewers to form an emotional attachment to the lovable characters and leaves them hoping for the best of each character.  The movie features various popular songs as each character auditions for the competition. While at times, the songs can seem annoying, the younger audiences love the connection they have to the movie through the songs and can be seen dancing along in theaters. An original song is even featured, sang by Stevie Wonder and Ariana Grande.
The voice actors all did an exceptional job of portraying the animals and left the viewers in awe of their musical talents. Their hard work is already paying off as the film has been nominated for two golden globes and is sure to continue gaining praise.
While this movie isn't a cinematic masterpiece, it is a heart warming film that leaves audience excited for the outcomes of each character. The movie produces an astonishing final act that is certainly memorable and is sure to leave children and parents alike in awe.