"Happier Than Ever" Skyrockets to the Top of Music Charts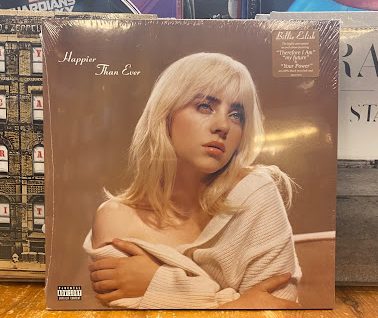 Album title: "Happier Than Ever"
Genre: Pop
Release Date: July 30, 2021
Our Rating: A
Two years after the release of her first studio album "When We All Fall Asleep Where Do We Go?", Billie Eilish has pleased fans with "Happier Than Ever". The new album explores themes of growing up with songs like "Getting Older" and themes of heartbreak with the show stopping title track "Happier Than Ever". Eilish, although notorious for her signature melancholy style, switched things up, including busier background tracks produced by FINNEAS, her brother and longtime producer.
As of Aug. 25, "Happier Than Ever"' has remained at the top of Billboard's Top Album Sales charts for over two weeks. It also broke Apple Music records and became the most pre-added album in the app's history reaching 1.028 million pre-adds.
---
Lost Cause: A
"Lost Cause" is the seventh track on "Happier Than Ever". The song is about the realization surrounding time wasted in a romantic relationship. It portrays feelings of disappointment experienced when you hoped someone would be better. Eilish sings about never receiving flowers and feeling unloved. She expresses having wished things were different before ultimately realizing it was nothing but a "lost cause". The catchy and empowering lyrics mixed with the brilliant background track have led to over 68 million views on YouTube.
"I love this album so much, it really grew on me and exceeded my expectations," sophomore Anabelle Gonzalez said.
Halley's Comet: A+
This ballad is about reluctantly falling in love. It is named after an actual comet that is only visible from earth every 75-76 years, which is interpreted by many as symbolism for the rarity of true love. The song begins with Eilish trying to renounce the love she has found and progresses into the acceptance of it. "Halley's Comet" ends with Eilish voicing her belief that she and the subject are meant to be while still being unsure of what she should do next.
This song is beautifully written and composed. Eilish's soft singing over a simple piano is an amazing combination. In her interview with 102.7KIISFM, Eilish spoke about almost not including "Halley's Comet" on the album. She talked about reworking the song in order to make the album more cohesive and how she fell in love with the song again after. This song is definitely a highlight on the album and an 'underrated' favorite amongst fans.
Happier Than Ever: A+
This final song is about Eilish overcoming a toxic relationship. In it she acknowledges how terrible she was treated and that although the love was real she was ultimately better off without it. The song begins with Eilish singing over the soft sound of a guitar which builds to a beautiful grand ending showcasing her vocal range. The second half of the song is a big contrast to the low vocals Eilish typically is known for.
"This album was truly incredible, Billie's vocals in the title track will forever be my favorite part," sophomore Angie Veliz said.
---
"Happier Than Ever" showcases some of Eilish's best vocals and incredible writing done by her with the help of her brother and producer, Finneas. Through catchy lyrics and beautiful vocals, every song on this album tells a story. Fans are very excited to see what Eilish does next.

[powr-twitter-feed id=faf5472c_1631068919561]