Valentine's Day Gifts and Thrifts
With Feb. 14 right around the corner, boys and girls are frantically planning and looking for the perfect gift to give to their significant other this year. Sometimes it can be quite difficult to find that one perfect present that not only clearly expresses how you feel but that will surely leave your partner speechless. If you have been struggling to find such a present, provided below are three personal and effective gifts that will surely put cupid out of business.
A Promise Ring
A promise ring is a great way to showcase how genuine and strong your love for your significant other is. Oftentimes, these rings stand as a reminder of love, stability and commitment. However, a promise ring could also be a representation of a certain promise you want to make to your partner which can range from a promise to always love this person to a promise to take them to another country.
"Personally, I feel as if promise rings are a symbol of giving yourself to each other. It is a very beautiful and personal thing and is such a great way to show off how much two people love each other," freshman Jazzmin Chavez said.
Finding the perfect ring for your significant other may seem like a stressful task,but as long as you are genuine towards the promise you make while giving this ring, there is nothing to be worried about.
A Playlist/Mixtape
Music, especially love songs, is one of the most endearing forms of expressing love and emotion towards your significant other. That being said, every couple is bound to have a specific song that is able to wholly represent what their relationship is all about. Whether it be a song you have dedicated to each other in the past, one you have danced to together at a party or one you hear on the radio, it will leave both partners smiling and thinking of each other.
Making someone a playlist is a genuine act of compassion and is greatly appreciated when done.
As your partner listens to the songs you have chosen to include they will, in-turn, think about you every time they hear the song on the radio, in public or via the playlist. Usually gifts like these create a silent, yet strong bond between the two people seeing as it is such a personal and thoughtful thing to gift someone.
To make the perfect playlist for your significant other you must first completely know who it will be given to. Secondly, you must pay very close attention to the lyrics and make sure they are relatable to your relationship with each other. Another great tip for finding the perfect songs would be to reference certain experiences or events you have gone through with the person you are giving the playlist to.
Something That Reminds Them of You
Whether it be something homemade or a store-bought gift, giving your significant other something that reminds them of you is another very expressive and personal way of showing off your love.
If your significant partner has ever said you remind them of a fictional character, buying a small and cute gift based off this fictional character will surely leave them thinking about you every time they see it. Another item you could buy for this day would be matching couple bracelets; this way, every time they look down at their wrists, they would see the bracelet and you would be the only thing running through their minds!
Another way to approach this type of gift would be to hand-make something for them. Putting together a mini scrapbook, filled with pictures from dates, parties and other events is just one of the many things one could make.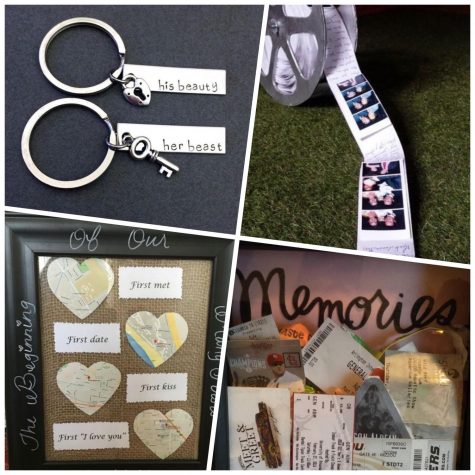 As provided in the picture, you could also take a small glass case and fill it with movie tickets, picture, concert tickets and amusement park tickets. This will leave your loved one reminiscing on the fun times you have had together over the course of your relationship.
"Though guys do not show it most of the time, we love getting framed pictures or those appreciation books girls make. Personally, it is gifts like those that motivate me to keep putting in max effort into the relationship," freshman David Ake said.
---
There are a number of different ways one can express all their love and effort for that special someone through a gift. However, the most important thing to remember is that as long as you are honest and genuine towards your feelings for someone, whatever the gift you give, it is bound to be that much more special to them.