Putting Your Testing Skills to the Test
As the college application season approaches, the angst of standardized testing overwhelms upperclassmen. Most college counselors and companies like Khan Academy and Kaplan suggest studying at least eight weeks prior to examination to optimize your score. Some of the most common preparation methods are self-studying using a book or online course and hiring a tutor. Although the Scholastic Aptitude Test (SAT) and American College Testing (ACT) differ in content, both evaluate general education development and swift problem-solving skills. As you explore which study method best caters to your learning style, be sure to take multiple practice tests to familiarize yourself with the structure of the exams. Not sure where to begin? Below are a few ways to guide you on your studying journey!
1. Khan Academy
If you have taken the PSAT, you might be familiar with Khan Academy, a complimentary service that provides students with specialized support based on past cross-section scores. Additionally, it allows you to take up to eight practice tests, with personalized essay feedback. Khan Academy's partnership with College Board enhances your studying plan by strategically dividing the material into eight weeks and sending you daily reminders.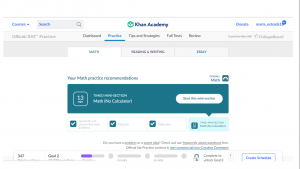 2. Princeton Review
Well known for their Advanced Placement review books, Princeton Review also serves as a college admission service company. Unlike Khan Academy, Princeton Review offers material for both tests. The test prep books provide in-depth information on how to master each section under time constraints. If you consider yourself self-disciplined, then the book could be a helpful tool as you can take five to six practice tests and review comprehensive explanations for each answer choice at your pace.
3. Kaplan 
Similar to Khan, Kaplan offers its services online through a detailed study guide for each section of the exam. Although Kaplan also has store locations for private tutoring, ACT study material is complimentary for any student that qualifies for a testing fee waiver. The online services arrange learning plans based on your test date and provides access to online classes with Kaplan professionals. The weekly live classes focus on exam tactics for each section, and instructors review past questions and promote discussions among participants.
"When I first took the ACT, Kaplan provided me with detailed feedback on the mistakes I had made and allowed me to polish my math skills through a series of live classes and practice tests. I am glad that free resources like this are available," junior Luis Lopez said.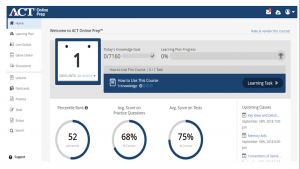 4. Company Books  
Designed by the ACT organization, the official ACT guide includes exam tips on how to approach each section and evaluate your own practice essay. The College Board also authors SAT preparation books with similar resources geared towards giving students the ability to familiarize themselves with the questions before taking the exam. As you take practice tests, question types will become apparent to you, increasing your ability to find an answer in a shorter amount of time. At a cost of approximately $20, the latest version of each book includes updated guidance and practice problems that reflect the most recent information per test designers.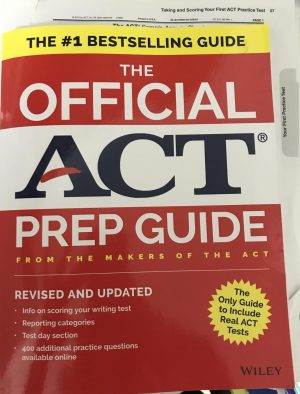 5. Tutor
The most common form of test preparation, hiring a tutor eases the test preparation for those seeking individualized instruction. Although the services are contingent upon the tutoring company, tutors generally serve as a disciplined way of studying by informing you of the exam structure and how to best tackle questions. Similar to self-studying, it is suggested to take classes at least eight weeks in advance with a total of five hours per week reviewing test material. If you are looking for a tutor, you can start by consulting a local tutoring company, Gables Tutoring!
"There was never a 'perfect' time to study, so preparation for the SAT always required acute time management skills. I recommend taking both exams during junior year and finding which best suits you and moving forward with weekly study plans from there," senior Nicole Verdesoto said.
6. YouTube 
If you are self-studying and seeking instruction from instructors and test experts, then YouTube videos are the way to go! In fact, the aforementioned test companies even have their own YouTube channels with short videos of sample section questions. For more obscure options, "Best ACT Prep" lives up to its name and has a variety of videos carefully breaking down the exam strategies and key concepts. For example, in this video, the instructor reviews the common ACT English questions and how to utilize answer choices to your advantage. If you find this visual tool helpful, consult multiple channels to help you find an instructor that best helps you understand the material.
Although preparation for your exam might seem arduous, if you routinely dedicate at least five hours per week over the course of two months, you are more likely to feel comfortable with your knowledge the day of the test. Do not let your first test sitting be your 'trial' score, take practice tests instead to increase the likelihood of being content with your first score. Throughout this process, manage your time wisely and prioritize one of the most important components of your college application. And even if a tutor is not accessible to you, there are various other resources available! Most importantly, be confident in your ability to learn the test!
The CavsConnect staff encourages comments and conversation on all of our content. We reserve the right to remove comments that are vulgar, rude, hurtful, or unrelated to the topic.