LGBTQ History Month Proposal Scrapped: Another Setback for LGBTQ Rights
Consistent with the disappointing trend of allowing culture wars to permeate public education, the Miami-Dade school board recently voted eight to one to reject a pitch for October to be recognized as Lesbian, Gay, Bisexual, Transgender and Queer History Month. The same board members voted overwhelmingly to acknowledge the history month in 2021, which allowed high school seniors to learn about key Supreme Court LGBTQ decisions. This latest decision was made out of concern that the proposal would violate Florida's Parental Rights in Education Law, which severely restricts discussions of gender identity and sexual orientation. Though following the law is incredibly important, the school board has a responsibility to LGBTQ students to do everything within its power to protect their rights. If the school board does not stand its ground on this issue, LGBTQ students will become even more marginalized and vulnerable. 
The extremist legislation pioneered by Governor Ron DeSantis prohibits teachers from sparking classroom discussions about gender identity and sexual orientation unless they are "age-appropriate or developmentally appropriate". While this seems completely reasonable for elementary schoolers, who are far too young to learn about these serious topics and are not likely to comprehend them, the same cannot be said for middle and high schoolers. Nevertheless, the law, dubbed "Don't Say Gay" by its critics, applies to students in kindergarten to 12th grade; its vague wording means that any homophobic parent can prevent any classroom instruction on sex education and sexual orientation. Far from being inappropriate, these topics are crucial for developing teens' independence and physical and mental well-being.
"This represents yet another step into the ignorant past that Florida's education system has decided to return to. Learning about the LGBTQ's community's past is more important than ever given the flurry of bills jeopardizing their rights," junior Steffi Sarmiento said.
"
It's important to make campus a safe space for LGBTQ+ students. We need to ensure that the things students share with counselors and teachers regarding their identity remain fully confidential unless they bring potential harm,"
— Junior Daphne Renoux
Indeed, LGBTQ teens may feel a lot less alone and misunderstood if schools dedicated some time to teaching their history. Even a modicum of representation can go a long way toward allowing LGBTQ teens to feel safe and accepted in their community. There is nothing inappropriate about teaching about the Stonewall riots and Harvey Milk; they are merely important parts of our country's history, just like the history of women and African-Americans. Some school board members who voted in favor of the proposal stated that the county-recognized month would have made students more compassionate allies for their LGBTQ peers. This is undoubtedly true, and it is frustrating that students at Coral Gables Senior High will not benefit from this scrapped initiative.
"I think that this decision reflects the oppressive turn our government is making. It's scary to think of what will come next for LGBTQ teens," junior Moon Anderson said.
It is understandable that the Miami-Dade school board would not want to risk breaking state law. However, authoritarian extremism that hurts LGBTQ people already at risk for depression and suicide should be fought. According to the Trevor Project, an organization that provides crisis support for LGBTQ people, 45% of LGBTQ youth seriously considered attempting suicide in the past year. These depressing numbers are even higher for transgender and nonbinary youth, as well as LGBTQ youth of color. Dedicating the month of October to gay rights, therefore, protects parental rights by ensuring the mental well-being of teens by exposing others to new perspectives, which is something we should all want for our society. 
In short, an LGBTQ history month would not jeopardize parental choice or cover inappropriate topics as long as it is implemented for those above a certain age group. As the largest school district in Florida, Miami-Dade County has a clear influence on the educational policies of the state and the school board should have exercised its powers to help suffering students. Though the county's latest decision is dismaying, Gables students should continue to support their LGBTQ peers.
Leave a Comment
Your donation will support the student journalists of Coral Gables Senior High School. Your contribution will help us cover our annual website hosting costs.
About the Contributor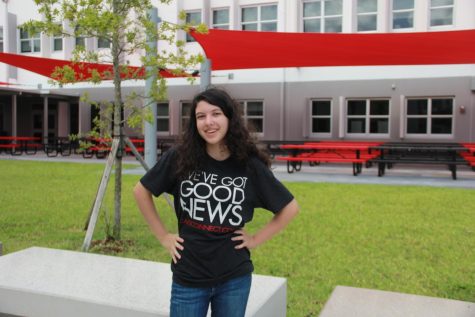 Emmanuelle Desmet, CavsConnect Staff Writer
Emmanuelle Desmet is a rising sophomore in the International Baccalaureate Program. She is a first-time member of CavsConnect and is excited to gain some...