Another Change In Florida Statewide Assessment: Will Students Tolerate This Blunder?
For the third time in the state's history, Florida changed its statewide educational assessment. It started as the Florida Assessment Comprehensive Test, then the Florida Standard Assessment and now the Florida Assessment of Student Thinking. The purpose of FAST, going into effect this school year, is to monitor students' progress throughout the year with a series of tests. The underclassmen at Coral Gables Senior High are not happy about this, as they are the ones being affected by it. After having Florida students take the same test for seven years, Governor DeSantis irrationally decided that multiple tests were the way to go, despite all the issues that will come with this new policy.
Monitoring one's progress is important and can doubtlessly be beneficial. However, when turning back the clock to much simpler times, the learning platform I-Ready was used. Similar to FAST, I-Ready had three different assessments throughout the year, to get an idea of how much students learned. In the event that a student scored below their previous test, they were accused of having learned nothing, which was usually not the case.
There are many factors to take into consideration as to why someone might have scored lower than they should have. Students are entitled to having a bad day or making a mistake after the baseline. Using FAST is going to lead to the same results, possibly discouraging students.
"I worry that I will mess up on the exam after the base line. I think they should have left it as it was truthfully," sophomore Natalia Galindo said.
"
It takes a lot of work and a lot of time to get out computers and papers and the packets. It is just a lot of work and it takes weeks and weeks of disorganization to get it done and I do not know why they would amplify that by making three dates instead of one.
— sophomore Caitlin Savage
The testing season is probably the most nerve-wracking time period of the year for many students. Everyone is making sure they are prepared for their exams, an incredibly stressful endeavor. In addition, teachers and staff are usually in disarray as they are either proctoring or their students are swarming them with questions.
Now that FAST is being implemented, freshmen and sophomores will be experiencing testing season three times in one school year. Florida government officials must think students adore the anxiety and chaos that comes with testing season; that would be the only explanation as to why they would make them experience it more than once.
"To be honest I think students are going to lose their motivation after every assessment they take. It is draining having to repeat the same process over and over," freshmen Alejandro Monroy said.
Having one test at the end of the year seems more conventional. A student's success in a course should amount to the test they take in the end, one that they have spent the entire year preparing for. It is fairly simple and students cannot see the point in changing something they have been doing for a while; the decision to change the assessment is unwise.
Some argue that it takes less time when doing something over a period of time as it is broken down into parts. In reality, FAST will lead to additional testing hours for students and class time will be reduced due to teachers proctoring. Sitting down for one day is simply easier for everyone. Florida does not need to become the first state in the nation to transition to progress monitoring; sticking to the status quo is the wiser choice.
Leave a Comment
Your donation will support the student journalists of Coral Gables Senior High School. Your contribution will help us cover our annual website hosting costs.
About the Contributor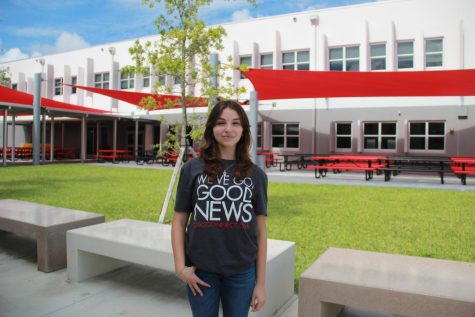 Melissa Hernandez, CavsConnect Staff Writer
Melissa Hernandez is a sophomore in the Academy of Finance at Coral Gables Senior High. Eager to leave Miami on a journey of higher education, she involves...