AOC's Sister Squad Redefines the Democratic Party
"The Squad," a coalition of resilient, first-time Congresswomen, has won their reelection bids in their respective states. Known for their progressive ideas and fearless vocality against President Donald Trump, the four ladies of "The Squad" made headlines throughout their first two-year terms as representatives. As they took on Washington D.C. by storm, they serve as an inspiration to girls around the world. Proving to be effective representatives, Alexandria Ocasio-Cortez of New York, Rashida Tlaib of Michigan, Ilhan Omar of Minnesota and Ayana Pressley of Massachussetts are the first signs that the political landscape of our country is changing. A new type of politician is rising; one that is transparent, fights against the establishment, listens to their constituents and creates long-term solutions, not just profitable short-term ones. All these women won by a significant number of votes, so many are wondering: what did they do differently that resonated so well with their constituents?
With that, Alexandra Ocasio-Cortez, the first time Congress woman that shocked the nation in 2018 for her massive grassroot campaign, was the youngest woman ever elected to Congress at just 28 years old. The young Latina was a huge hit in one of New York's most overlooked districts in the Bronx. Defeating the seated Democrat of 20 years, she now has over 11 million Twitter followers and a vivid presence on her other social media platforms. Amidst all her ambitious work on Capitol Hill, Ocasio-Cortez's Green New Deal legislation that she has co-sponsored with Massachussttes Senator Ed Markey is definitely her biggest move yet. The bill calls for drastic cuts in the nation's carbon emissions, while also boosting the economy and creating new jobs. An underlying goal in this bill is to pay extra attention to poor and minority groups as they are the ones most affected by the climate crisis. Her drive for a better and more sustainable nation has shown many American people that change is coming.
"
I do believe that American politics are changing and they are starting to reflect American demographics with more women and especially more minorities in office. The reelection of the squad just goes to show the support they are getting from the American people,"
— junior Isabella Reyes
The three other members broke barriers of their own. Rashida Tlaib, a Palestinian-American, and Ilhan Omar, a Somali-American, were both elected in 2018 as well. With their election, they became the first two Muslim women to ever serve in Congress. Also joining the diverse women of Congress in 2018 was Ayanna Pressley, the first Black congresswoman elected to represent Massachusetts, a title she earned after defeating a 20-year incumbent.
These women hold extraordinary stories. Tlaib was a first in her family to graduate from both highschool and college, Omar came to the States as a refugee from Somalia and became a citizen at 17 years old while Pressley's father was incarcerated for the majority of her childhood and she herself is a rape survivor. Their stories are an exhibition of pure strength and perseverance— stories of the lost American dream.
These women of color withstood immense scrutiny from President Trump and Republicans throughout their first years in Congress but have proven to be much stronger than what people would've expected. As popular targets of President Trump's ludicrous tweets, "The Squad" has been referred to as "…inexperienced, and not very smart,".
Attacks like these have not been limited to politicians, though. Plenty of xenophobic Americans have had their share on the women of 'the squad,' specifically the Muslim politicians. A study analayzed over 100,000 dirogatory tweets towards the Muslim candiates, calling them terrorists and demonic. Having a progressive agenda in such a divided political climate is already hard enough, but adding in constant attacks makes governing even more difficult than it should be for these women.
The four Congresswomen have been considered the most progressive because they all ran on a platform that emphasizes the need for better representation of struggling low-income families and forming their campaigns on grassroot work– not lobbying. They also have advocated for popular initiatives like "Medicare For All", a $15 minimum wage, the climate crisis and the abolishment of ICE. These women have won the hearts of their constituents, especially youth voters who want to see progress towards such issues that have deeply affected them. "The Squad" have proven that it takes courage and immense strength to step towards progress but, most of all, these women have proven that it is time for American politics to welcome the diversity that this great country has to offer.
"I definitely agree that this nation is changing and that we are moving into the direction of making America into a country that is better for all, not just certain groups of people. This election we have not only elected more women into government but also created diversity," junior Marta Rodriguez said.
American politics are changing and with it is the disappearance of the stereotype of what a "true American" looks, talks and feels like.This country is diverse in every single way; it is about time everyone accepts and begins to love America for what it is— a melting pot of cultures. These women have shown that they are true Americans and true patriots; they embrace where they come from, they love their country and they accept the flaws of their beloved home, working tirelessly to fix them.
Leave a Comment
Your donation will support the student journalists of Coral Gables Senior High School. Your contribution will help us cover our annual website hosting costs.
About the Contributors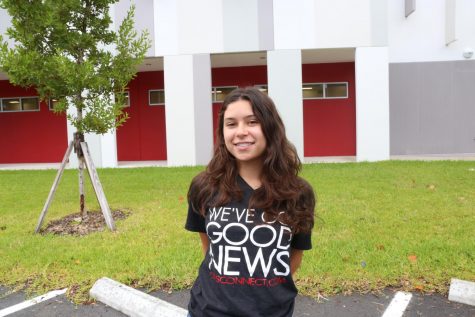 Lucia Chico, CavsTV Staff
Lucia Chico is a senior in the International Baccalaureate Program. She serves as the Senior Class President for the class of 2023 as well as the co-president...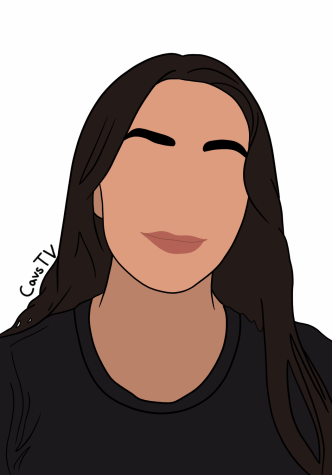 Victoria Mavarez, CavsTV Staff
Victoria Mavarez is a junior in the Visual Performing Arts academy in Coral Gables Senior High. This is her first year in CavsTv and is very excited to...