Welcoming the Class of 2024
The rush of walking into high school on your first day as one leaves their middle school years behind, the embarrassment that comes with getting lost the halls and asking seniors about how to get somewhere and making it to class late- these are just a few of the emotions freshmen encounter during their first few weeks of high school. Unfortunately, as we struggle to navigate through these unexpected challenges that come with the novel Coronavirus, these feelings may not seem as prominent as they were among other classes. These experiences that are often promised to incoming freshmen have been altered to fit Coral Gables Senior High's new protocols and rules as we navigate virtual learning. The class of 2024 faces new obstacles and gets a unique twist on the classic "first day of high school" mold other generations have come across. Despite the changes, Coral Gables Senior High welcomes the class of 2024 and hopes they feel connected and united with other students and faculty. Freshmen can expect to not only grow academically at Gables but garner new opportunities, meet new people and make tons of memories.
"I feel the freshman class in order to adapt at Gables needs to come together and all support one another," freshman Emma Ablanedo said.
While the Class of 2024 may not get the classic in-school experience, virtual learning has put them at their own advantage. Freshmen now get to join online classes which have them learning skills that are new and innovative. They are connecting with their teachers through new platforms and while sports are not yet available, they are most likely going to attend the first-ever virtual club fair. Meeting new students through breakout rooms and virtual learning applications is teaching them how to communicate through new methods that have never been used before as well as build up their independence while learning new material. Tackling both distance learning and settling into high school is a difficult battle freshman has to face this school year, but this new form of schooling has proven that the freshman class is resilient and can adapt to changes quickly.
"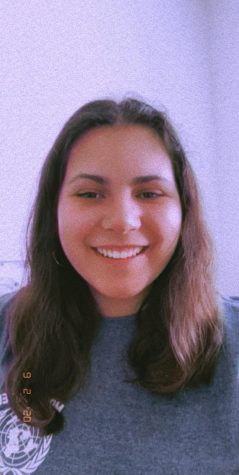 "Find a group of people with common interests who accept you for who you are, who will support you and who you can count on. Finding a group of people or a class that allows you to be yourself, and who you actually enjoy being around helps you make friends but also makes high school more enjoyable.'
— senior Isabella Rodriguez
Gables offers lots of different opportunities and while some of those may seem distant or complicated due to COVID-19, Gables has not let the setback define them. Freshmen have the chance to get involved in clubs, virtual school activities and plenty of other online gatherings the school has planned. Some sports Gables offers include football, bowling, basketball, soccer, volleyball, swimming and even some as unique as golf and badminton. Popular clubs include the National Honors Society, Gables Earth, Model United Nations, Interact Club, Gay-Straight Alliance and various others where everyone can find their niche. There is a place for everybody–freshmen will find their passion without a doubt. One of the great upsides of online learning that they get to enjoy is waking up later than most freshmen do for their first day of high school. While school normally starts at 7:15 a.m., freshmen now have the privilege of starting at 8:30 a.m. which gets them more time to sleep in, something no other class could boast about. This new normal has consumed the majority of high schools and freshmen will surely find a way to take advantage of new opportunities.
"They are adapting to a very large school with many cultures and interests. [The] good thing is that Gables offers something for everyone. So, they should try to find their niche," language arts teacher Mrs. Vazquezbello said.
The class of 2024 will unavoidably face problems and unexpected challenges, but we know they'll be able to overcome them all. The resiliency they have already shown already proves that this year will be incredible, even if it is not in the regular setting. They will find ways to work around different issues and find solutions for problems that arise. While it may not be what was planned, Gables knows the class of 2024 will make it through the year and turn out stronger than ever. The Gables family wishes the best of luck to all freshman and hope they soon feel that they are at home. Always remember… Go Cavs!