Kamala Harris: Ready to Lead as the VP Nominee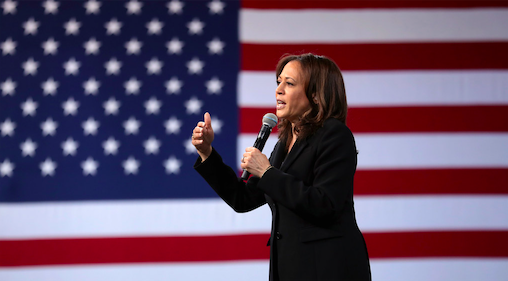 For the third time in history, a female has been put on the ticket of a major political party in the United States for the vice presidency; for the first time in history, that woman is one of color. Kamala Harris is running besides Democrat prospect and former vice president Joe Biden for the 2020 election. The reiterated theme of the Democratic party has been to vote President Trump out, that this election is crucial for the future of America. With such an important election, Joe Biden had to make sure his running mate be a woman who had the experience, a dependable reputation, policy ideas that aligned with his and a little something extra that could push them into the White House; Kamala checked all those boxes.
Growing up in Oakland, California and attending Howard University and the University of California's law school, Kamala was set to do big things. Joe Biden promised to select a woman to be his running mate and just short of 100 days until the November election, the two politicians took to their social media to announce the selection. One could speculate the many reasons why Biden chose Kamala to be his running mate. One of the most concrete reasons is her impressive career in public service. Harris served as District Attorney of San Francisco for two terms and as attorney general for two terms, both lasting 4 years each, before getting elected for state senator. These accomplishments are of great magnitude as she was able to get elected repeatedly by the most populous state in the country and serve as the second Black female senator. Harris also proved to be a tough competitor in the 2019 democratic primaries, showing her strength in the area of debate and never giving up on a fight. She has the education, the reputation and she knows how to campaign, but it's not just her qualifications that have set her up for the vice presidency.
As has been shown in the past, the pick for vice president has always been given to someone who works well with the presidential candidate and who is as likable and noncontroversial as possible. Kamala fits this characteristic and has policy ideas that align perfectly with those of Joe Biden, including racial and environmental justice, better responses to the Coronavirus pandemic and feasible plans for the recovery of the economy. In particular, the climate crisis is a topic that has not received the necessary attention from the current Trump administration. Environmental leaders have avidly supported the Biden campaign as they believe that, based on Biden and Harris's past legislation efforts and affirmations, they will make environmental justice a priority. As Harris has stated before, she will continue to fight for the most vulnerable communities that, in this case, are already the most affected by pollution and other factors of the climate crisis. This issue is one that young people prioritize as they will be the one's most affected by it.
"Beginning to restructure American policy in order to address environmental strain cannot happen without helping those who are unfairly affected by climate change due to class and race discrimination. Her dedication to that side of environmental activism and policy is what makes me believe she was a great choice for Biden's vice president," senior Ana Bermudez said.
Joe Biden was careful to make his choice, as he needs someone who not only agrees with his way of thinking, but who is also prepared to take the stand at any moment. If elected, he will be the oldest president to ever serve the country at an impressive 78 years old. It is evident that Kamala Harris would be ready to take the stand if anything were to happen to Biden; she ran for president in the Democratic primaries but dropped out of the race in mid-January due to insufficient funding and poor polling numbers. What is more reassuring about a vice presidential candidate being prepared to take on the role of president if something were to happen then a prior presidential candidate?
Now, making a choice for vice president was definitely no easy task for Biden. Among some of the rumored potential picks were Gretchen Whitmer, the governor of Michigan, and Elizabeth Warren, the senator of Massachusetts and presidential prospect,  two women with extraordinary resumes. However, these women are just not Kamala. To start off, they both have received quite some heavy backlash from the public and media; Whitmer's offices were stormed back in May by angry and armed Michiganders who protested the stay at home orders that she implemented and Warren's disapproval rates skyrocketed when she claimed to be part Native American, which was later proven false.

Loading ...
Adding on, when the social and political climate of the country is taken into account, it is clear why Kamala stands out; she has always embraced being a woman of color and what it's like to work twice as hard to get where she is today. In a time like this when the country is experiencing such heavy upheaval from the lack of justice and equality towards the Black community, a woman of color with strong-set goals can help achieve real change in our government that is plagued with systemic racism. Plus, one of the demographics that the democratic party always counts on the most is women of color, as they represent the majority of voter turnout for the Black community. If democrats can attract this voting block, they move much closer to their goal of defeating Trump.
Aside from that, she is a woman, a characteristic that has long been awaited in the eyes of many Americans. As waves of feminism have swept the country in the past 20 or so years, it has been shown that, yes, America is finally ready for a woman in the White House. It seems that the democratic party was testing the waters in the primaries with women; they've been wanting to campaign with female political figures for a while and after failing with Hillary Clinton, the primaries were how they figured out if America would vote a woman into office this time around. Unfortunately, this trial and error proved to be unsuccessful as democratic prospects Amy Klobuchar and even Kamala Harris fell far behind the potent Bernie Sanders and Joe Biden. The fact that Kamala is no longer running as president, but rather alongside the familiar face of Joe Biden will give her a much more palpable chance at making it to the White House. Past democratic nominee Hillary Clinton proved that, while a majority of citizens were comfortable with electing a woman for the job, America as a whole was not prepared to accept that. After 4 rather disastrous years of governance at the hands of the Trump administration, it is time to elect government officials who truly care about the American people.
"I think it's about time there's a woman of color in the White House, especially now with all the social uprisings. It's going to change so many lives because she's going to inspire so many little girls to grow up and be like her, " sophomore Cristel Cantarero said.
With a disastrous pandemic response, a mass social uprising and a very controversial president, democrats have never had more material to use against the Republican party. This is most definitely the political party's strategic approach to finally getting a woman into the White House and setting the stage for future female leaders like Kamala Harris.
Leave a Comment
Your donation will support the student journalists of Coral Gables Senior High School. Your contribution will help us cover our annual website hosting costs.
About the Contributor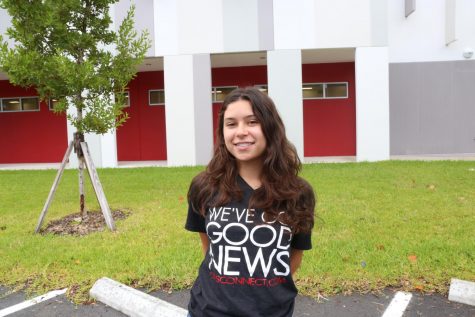 Lucia Chico, CavsTV Staff
Lucia Chico is a senior in the International Baccalaureate Program. She serves as the Senior Class President for the class of 2023 as well as the co-president...