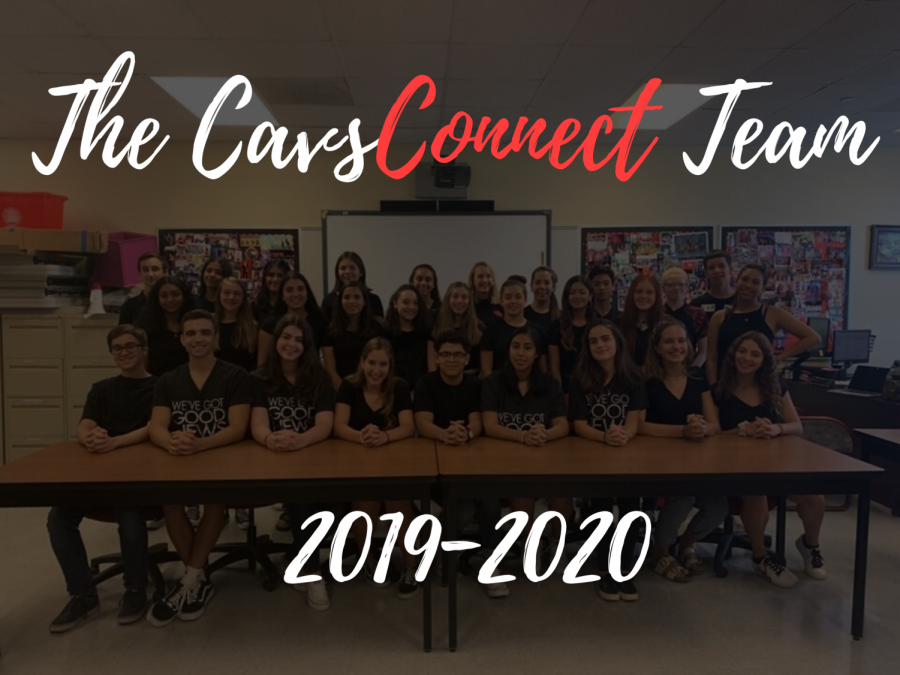 Daniel Toll
Dear CavsConnect,
To say that the year we spent together wasn't filled with laughter, with pride, and with exhilaration would be a true understatement. Although our time together as a team was unfortunately cut short far sooner than we all would have hoped, I am eternally grateful for the memories we were all lucky enough to have made throughout the school year.
One year ago, I had my heart and mind set on one thing, on one goal for my senior year, and I think you all know me well enough to know what that was. But what I wanted more than anything was to take this team – consisting of so many new faces that were just beginning their high school journeys – and create a family out of it, just as the Editors-in-Chief had done for me throughout the previous two years.
This has always been CavsConnect's #1 pitch. "Be a part of our team. Be a part of our family". In the big, crazy world that is high school, CavsConnect has been a source of love, of compassion, and of unity for people that have oftentimes needed it most. At the end of the day, All-Florida would not have meant anything if we didn't develop relationships with one another, if we did not grow together as individuals and as a family.
The destinations we were able to take ourselves as a publication – whether it was with our "Distinguished Site" status or the honor of being named the #1 online publication in the state of Florida – would not have been possible without the commitment of each of you to befriend each other, to grow off of each other's success, and to be sources of inspiration to those around you.
That is what makes the CavsConnect Team of the 2019-2020 school year one that will set the example for each and every single staff that follows it, and I'm sure that student journalism will continue to thrive at Coral Gables Senior High through CavsConnect for years to come.
I owe that to all of you, as the diligence you have displayed to improve as both journalists and people have driven each of you forward, and I am immensely proud and grateful for all of you and the impact you have made on my life.
——————————————————————————————————————————————————
First and foremost, I would like to thank my Co-Editor-in-Chief, Alex Yagoda, for being the best partner and friend I could have asked for to take on this mission. Our personalities are perfect compliments to each other, and there is no way I could have done any of us this without you bringing me down to Earth when I'd get carried away, stressed, or worried.
Alex Tabares, you have one of the most brilliant minds I have encountered for someone so young and your charisma will always be something that will reward you in your relationships. Allegra, to our superstar swimmer, thank you for always lightening the room atmosphere with your concerningly advanced knowledge of high school drama. Allison, you have grown into one of the most talented writers on our staff, and I know that your true, good heart is something that will be valued by your writers next year as an editor. Amanda, thank you for always being a friend to those around you, and for being the first to greet someone with a smile when you come across them. Ana, your positivity, kindness, and compassion for others has always been central to who you are, and the effects of it have truly been felt throughout your three years in our publication. Annabella, from your very first article, it was clear that you were an insightful, open-minded, and critical thinker, and I know these traits will reward you throughout high school.
Anthony, your writing has truly evolved in discipline and maturity, more so than anyone on the staff, and your commitment to improve through hard work has rightfully rewarded you with an editor position. Ariana, thank you for always putting forth maximum effort into all that you do and for being communicative to ensure that your effort translates into a great story. Audrey, our little Simon, thank you for always bringing your sarcasm, humor, and positivity into our staff. The room wouldn't have been what it was without you. Camryn, your insight, attention to detail, and commitment to do beyond what is asked of you has made you an excellent Reviews writer, and I know you will continue to grow with this section next year. Emma, thank you for being the staff's big sister and for radiating joy to us all every single day. Ingrid, your writing has drastically improved since the beginning of the year, and to see it develop into what it is today is something I am extremely proud of. Jana, thank you for willingly taking up so much responsibility this year and for doing all that you do with a contagious positive attitude and smile.
Japheth, as childish as you can be, your maturity exceeds beyond your years would suggest, and it makes you a truly great friend. Thank you for being a voice for CavsConnect. Never act your age, and always be true to who you are. Jeannette, your 'bounce off the walls' energy was always something that rubbed off on the rest of us, and you were always the first to support your friends when they needed you. Jesse, it was you who convinced me to apply for CavsConnect back when we were just freshmen, and to see how much we have grown together is truly heartwarming. Thank you for always being a friend to myself and to the rest of the staff. We all appreciate and love you for it. Jimena, there has not been a single day when you walked into class without a smile on your face, and your kindness and care for others are unparalleled. Ketty, you truly blossomed this year in every way. Whether it was with your own skills as a photographer/videographer or helping others, your guidance benefited us all. Kly, I will be eternally grateful for you for more reasons I can probably count, but for you to take on an editor position without any experience, with no questions asked, and do such an impeccable job at it is definitely at the top of the list. You definitely relieved me of any worries I could have ever had, and our friendship has grown because of it.
Maria, thank you for always going above and beyond to help others, especially when it would put you at an inconvenience. Melanie E, thank you for always handling your behind the scenes responsibilities so effectively and with so much discipline, and for being the best cake-cutter we could ask for. Melanie O and Natalie, to see you both develop the friendship you have today while expanding your passions and skills through photography and videography has been truly rewarding. I know you will do amazing things with CavsTV next year. Nataly, you are a natural-born leader and a true friend to everyone you encounter. Thank you for always being there for our staff whenever they've needed you. Sofia, you have been a superstar since the very first day you stepped on campus, and to see your writing transform perceptions of local and global issues is something I have always admired. You are destined for great things, and I look forward to watching them unfold well into the future. Stephanie, thank you for being so out-spoken, attentive, and caring in everything you approach. I promise it will benefit you long-term.
Chase and Maia, I have seen you both grow since each of your freshmen years, and have seen you develop into the journalists and people that you are today. I could not be prouder to leave this publication behind to the two brilliant, strong leaders you are. Thank you for being wonderful editors to your writers this year and for setting the stage for a great year next year.
Patty and Ms. Suarez, none of this would have been possible without the two of you. Three years ago, you gave a 14-year-old boy that was lost in high school, who did not know what he wanted out of his future, a chance at an interview he would ultimately be late for. The trust you placed in me to be responsible for a section in my first year without any knowledge of who I was is something I will always be extremely grateful for, and I will never take it for granted. As I continue my journalistic career in college, I promise I will take everything you have taught and given me into the future, and I know we will keep in touch.
With that, I have written my final article for CavsConnect, and I couldn't be more grateful for everything that has come as a result of it.  Thank you all for the memories we've shared, and for the ones that have yet to come. If you ever need me, know I won't be going too far.
Always Proud,
Danny