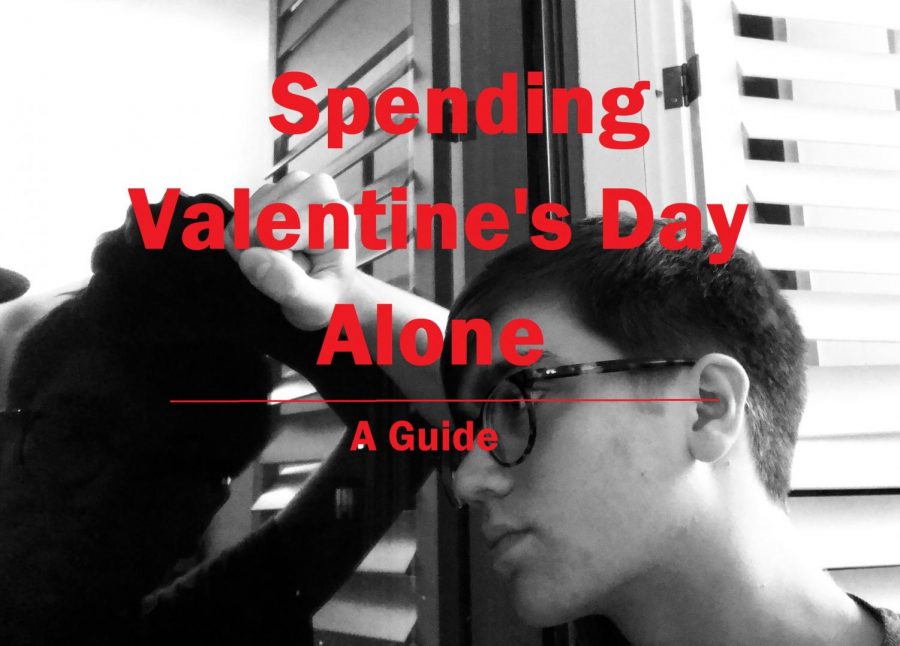 Alexander Yagoda
The sun is shining, birds are chirping, and you're alone in your room? Yup, it's that time of year. Valentine's Day is here, but your date isn't. Whether you've been stood up, rejected, dumped, or dunked into a trash bin in the middle of a crowded room, you're going to be alone this Valentine's Day, but that's okay, because so am I, so let us figure out how to have a jolly good Valentine's Day by ourselves.
Be Positive
Being alone while all your friends and "friends" are out and about doing stuff, you might be feeling a little down in the dumps. The best solution to this is to simply not be sad. The government of the state of Florida has decided that as an individual, you can just decide to not be sad, so why would you be? Following the first bullet point of the 12th grade curriculum, just turn your negativity into positivity and you will be good to go! Avoiding mention of Valentine's Day might be a good place to start if you're looking for real advice; seeing more of it, especially in its most bloated and glorified form on television and digital media platforms like Netflix and YouTube can make the long, lonely day harder to get through. So if you get an itch to watch "Hitch" or your favorite YouTuber's Valentine's Day prank bordering on sexual misconduct, turn your mind to something more productive, like writing second rate satire for an audience of two.
"After school, I will probably go home, dye my hair pink, and then go get food at Whole Foods," senior Sofia Alfonso said.
Listen to Music
According to this study,  crying while sad can be extremely beneficial to "maintaining biological homeostasis, perhaps consciously through self-soothing," and what better way to get the waterworks running than by listening to sad music? People's tastes in this category range from "Fix You" by Coldplay to the aptly named "SAD!" by XXXTENTACION, but Green Day's new album "Father of All" has really been filling my need for crying music, not necessarily because the album's songs are sad, but rather how sad and pathetic the album is at pretending to be a Green Day album, something that would bring tears to any (former) Green Day fan.
Have Fun
Moving on, games are fun and easily distracting, so why not try some of those? I would recommend dusting off Monopoly as a fun way to kill several hours being angry instead of sad, but that requires multiple people and you are alone. You could try getting your other single friends together to play with you, but getting hit by the crushing realization you'll be alone forever doesn't make hanging out with other people any more fun. It's okay though because no one ever feels lonely outside of Valentine's Day, and if you somehow feel it any other day, just don't be sad.
You could also try going out with your aforementioned friends, but being the sole group of single people in a restaurant or movie theater packed with couples doesn't make you feel any better overall. That being said, the fact that it's Valentines Day actually opens a lot of viable options for you and your friends. If you're a fan of paintball, there is no better time than Valentine's Day. Since it is technically a holiday, there will probably be some sort of sale going on, which attracts exactly the crowd you want on a night you're trying to avoid feeling sad. A Valentine's Day special at a paintball place will immediately draw in all the local gun-owning millennial Tea Party members to the premises, except for the most hardcore who stayed home to complain about government healthcare.
These masters of projectile-flinging recreation will prove to be tough opponents, leaving you no time to think of where or what to shoot, let alone think of what other people are doing during Valentine's Day. Let us say, for instance, you perform to the standard of the Tea Party and they decide you are fit to be inducted into their "extra exclusive sect". Then, hypothetically, you choose to accept their offer. The friends you came with are befuddled at your decision, but it's getting late and the paint fumes are getting to you. Then, one could go as far as imagining you get in one of the Tea Party member's cars, conspicuously denoted by the bald eagle emblazoned on the hood and a skull and crossed guns stamped on the back bumper.
It would not be out of the question to then say that as you pull into the parking lot of a church of Scientology, you become alarmed and start to question your earlier actions. As you jokingly try to leave after getting out of the car, it would not be a stretch of the imagination for the group of Scientologists to block your path with a menacing aura, directing you into the Scientology building. As you are led down a hidden stairwell into the increasingly damp underbelly of the Scientologists' lair, you could perhaps even begin to feel true fear for the first time since you watched that car ad so long ago. As you enter a large room lit by torches on the walls, with shadows projecting from the hooded people standing along the wall towards a stone altar, you might even begin to panic. While you are directed onto the altar, you could perhaps even hear the hooded men and women surrounding you begin chanting an eldritch invocation, with the last thing you feel before blacking out being an intense pain somewhere between being on fire and hearing Green Day's new album a second time.
Baking
Valentine's Day might make you bitter, but it's up to you to make it sweet! Dust a large kitchen workspace with flour, make a healthy batch of cake batter, and find things around the house to use as molds to assemble a Voltron-style amalgamation to take a photo of and let go stale in the fridge until you need the storage space. Regardless of how the cake actually turns out, baking is a fun and rewarding experience sure to lift your spirits more than thirty minutes in the oven lifts your cake!
"If you're alone on Valentine's Day, just know that it's because you're ugly. If you were better looking, you would have a date," junior James Lutton (jokingly) said.
Valentine's Day can be tough if you're spending alone, but there's something for everyone to make it enjoyable. Tune in next time when we figure out how to enjoy St. Patrick's Day as members of the 7.58 billion of 7.7 billion people worldwide not of Irish descent!