For the Love of Reich
It took all of ten minutes on the first day of school for students to realize that Mr. Reich would become an adored member of the English Department. Maybe it was the fact that he was as new to the school as the freshman he taught, or maybe it was the plasma ball sitting on his desk. Either way, it was easy to connect with this iconic figure in the English hall. Often referred to as "Reichinator," "Reichosaurus," "Reich Smash," or "Reich El Rayo," Mr. Reich has created the perfect class environment in room 2133.
Now a four-year veteran at Gables, Mr. Reich has amassed an impressive following from past and present students. There is bound to be at least one student from a different class in his room at any given point, a visual representation of the draw of Mr. Reich and his eccentric room decorations. Students are first introduced to Mr. Reich with the "plus/minus" grading system, a method that rewards "pluses" for active participation and "minuses" for negative behavior. However, this simple system took off as students began to willingly work for as many pluses as possible despite already earning their A, stopping at nothing in their quest to become decorated members of the "Reichism" community.
Besides motivating students to actively participate in class, Mr. Reich is also well-known for being a patron of the arts. The walls of room 2133 are covered in students' artistic creations, with pieces ranging from illustrations of vocabulary words, collages of sacred texts, and remarkable renditions of Mr. Reich himself, with the pièce de résistance of Mr. Reich's ever-expanding collection being the dinosaur painting that hangs just outside of the classroom: a stunning T-Rex roughly six-feet tall that greets students as they enter the classroom, reminding them that "We're all in this together." Almost all of the art is courtesy of the students in their never-ending attempts to earn pluses and please the benevolent "Reichosaurus."
When it comes to the decorations inside his classroom, the plasma ball is long gone, replaced by items following his new "zen" theme. Throughout the classroom, there are multiple fountains, ropes of vines framing all of the boards and a magnetic iron powder kit that was surely bought after scouring Amazon for several hours. Mr. Reich even implemented a new rental system where students can take different kinds of plants and succulents to their desks, an effort that not only accentuates the new "zen" aura but also instantly relieves students of all IB-induced stresses. Gables's own Siddhartha Gautama, Mr. Reich lights the path to achieving eternal knowledge of English and Philosophy one zen fountain at a time.
"I never thought that there could be peace in a classroom, but Mr. Reich proved me wrong. What can I say? The man has a taste for interior decoration," senior Isabella D'Ottone said.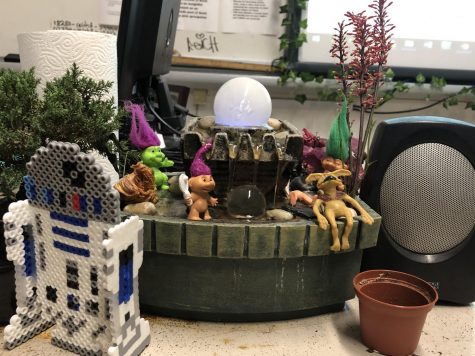 While the "plus or minus" system may seem like an indoctrination system into a cult that worships Mr. Reich "El Rayo," and the art and "zen" theme make his room comparable to a temple of worship, the existence of an actual cult can neither be confirmed nor denied, and no student seems to believe they are participating in "cult-like behavior." Regardless, it only seems "cult-like" and there is no proof of an actual "cult of Reichism." Mr. Reich just has an unparalleled ability to relate to his students and earn their undying admiration.
"These claims cannot be farther from the truth. Mr. Reich is a benevolent and selfless individual who promotes individuality and free will in his classroom environment," senior Mauricio Cervantes said.
With that being said, the students of Gables will forever appreciate Mr. Reich, as he transforms the difficult subjects he teaches, such as English and Theory of Knowledge, into classes students are eager to attend. If you ever pass by Mr. Reich's room, be sure to ask for some cafecito too – although you didn't hear that from us.
Leave a Comment
Your donation will support the student journalists of Coral Gables Senior High School. Your contribution will help us cover our annual website hosting costs.