Is the Women of Color Healing Retreat Racist?
Hang on for a minute...we're trying to find some more stories you might like.
There are moments in life when one just needs to get away from reality. In some cases, a spa day is exactly what one may need. When a woman of color walks into a spa, a spa that is frequently visited by white guests, she may be looked down on and, at times, even treated differently. This can lead to feelings of seclusion, causing these same women to stop visiting these spas. Thanks to Andrea X, they now have the opportunity to attend a spa that only caters to women of color by excluding white women and men. More so, Andrea X's Women of Color Healing Retreat is located in Costa Rica, providing a nice getaway to those who wish to escape the cruel reality they might be living in the U.S.—even if it is only for ten days.
Women are put through the ringer if they do not live up to the expectations society holds them to. However, black women face even more ridiculous expectations compared to a white woman in the United States, and even if they live up to societal standards, no matter how unfair it may be, they will never be viewed as equal to white women.  While women are constantly judged for the styling of their hair, clothes and if they are appropriate, black women will face those judgments ten times over. A black woman has to try harder than a white woman does just so she can prove her worth. She has to try in her place of work, at a bank, grocery store, even more crazily so while walking down the street. Black women face struggles in every aspect of their lives, and it is quite simply not fair. So, how can people who disagree with the spa speak of how it is "unfair and unjust" that it opened and serves only black women when society has put up impossibly high walls for black women to climb? This spa is for them to let go and find tranquility in their own shell.
"
I see every day how young women of color face judgments based on their looks and way of living. In my opinion, black women face expectations that are inequitable and I celebrate the idea behind the resort."
— junior Yeinely Mirabal
Women of Color Healing Retreat and Wellness Garden established in 2014, was created with fundamental beliefs to empower black women and give them a rest from the constant scrutiny they live under. It was set forth to heal black women from white oppression. This resort is meant to be a guide for black women to free their spirit of all the negativity in their life. During the ten days offered by the retreat, the women participate in numerous workshops, hiking waterfall trails, swimming in "the bluest oceans" and ultimately feel comfortable in their own skin while creating bonds with women who might face similar issues in their daily routine. This type of relaxation might not be offered to black women in the middle of a white suburban town where as soon as they walk into a spa room, they are met with judgments on their appearance and way of living. Contrary to Women of Color Healing Retreat (WOCHR) ideals, where X encourages the blossoming self-love and acceptance for who they are, proud black women.
"The whole idea behind the spa is unique and never really seen before. I am not surprised that it has received the negative commentary that has been seen, but I think we should just let them be happy. Women of color have been through enough," sophomore Melanie Artiles said.
While some celebrate the retreat, others view the whole idea as a contribution to a more racist society by singling out non-women of color. This type of "spa" does not exist in the United States because equality plays an important role in society. It is quite unfathomable to think of a white-only spa opening in the U.S. One can only imagine the upheaval of protests in the streets from the other side of the ethnic spectrum. So, it is understood why certain citizens are upset with the opening and advertising of WOCHR. Some will argue that white women are being discriminated against due to their entry being denied. If the roles were reversed, women of color would protest the spa. Society would be in havoc due to the unfair treatment against those who are of color.
However, to an extent, society itself is flawed in the way they treat women of color. In addition, if this retreat is funded personally by Andrea X, with sole contributions of donors who share the same ideological values in which she believes in, why is society not rejoicing in the fact that black women are not only being celebrated but honored? Therefore, black women should have the luxury to enjoy this resort created just for them without being questioned. Those who disagree with the beliefs behind the resort should quite simply avoid the resort in its entirety. Furthermore, those whom oppose it should steer clear of the topic because, in the end of the day, most of those who fight the idea behind the spa believe it is "unfair" and "unjust" just how black women believe it is "unfair" and "unjust" when it comes to how they are treated by society. Andrea X has proven she does not care what people think, and quite frankly black women do not care either. This has been proven by the influx of guests at the resort and the positive feedback left by women of color regarding the resort. Most importantly, black women will continue to enjoy the spa, more so, the fact that someone has dedicated an entire resort to the color of their skin and we cannot stop them.
It is needless to say that X's intentions are derived purely out of motivation for black women to get out and experience something soothing and inspirational. She wants women of color to be able to get away from "the psychological trauma that follows from systemic racism" and join a community that offers nothing but support and nurture. Overall, those who are against the resort can continue to voice their opinions and fight for the closing of the spa, but they probably will not get very far. It is time to stop singling out black women just because they are not white, and allow them to relinquish their problems and free their spirits at this spa, just how a white woman would enjoy countless hours doing so.
About the Contributors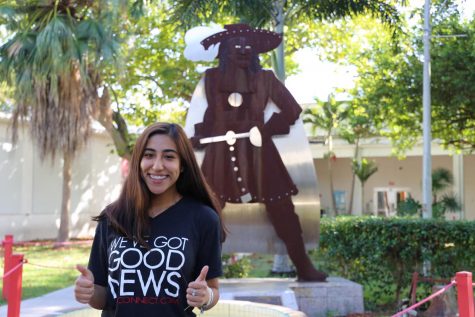 Jesse Zambrano, Spotlights Editor
Jesse Zambrano is a senior in the International Baccalaureate (IB) program. When she arrived to the US, it was clear to Zambrano how important it was to...