Uber, You're Fired!
Hang on for a minute...we're trying to find some more stories you might like.
#DeleteUber began trending on Twitter on Jan. 28 and continued on into the morning of Jan. 29 as a result of Uber's action taken during the protests against President Trump's temporary ban on travel from several Middle East countries – Iraq, Iran, Syria, Yemen, Sudan, Somalia and Lybia. Uber received backlash from many customers when it posted a since-deleted tweet stating it had turned off its "surge pricing" feature, a function that increases the cost of a ride during times of high demand. This tweet was interpreted as a scheme to capitalize on the protests and one user, @Bro_Pair, responded to the message and called widespread attention to it, resulting in the hashtag #DeleteUber. This movement launched its competitor, Lyft, to top of the app store while Uber was bombarded with one-star reviews.
"
The protests are an obvious and healthy reaction to the injustice that is the Muslim ban. To further reinforce this, it was put into place due to an executive order, meaning he did not necessarily need the consent of the people in order to put it into place. Is this not already inherently unjust in nature? Furthermore, this decision that affects this nation and others alike has been evidently influenced by his personal affairs. It is to no surprise that the general public has decided to take the issue into their own hands and express their obvious disagreement with a Ban that dehumanizes an entire group of diverse individuals. "
— sophomore Angie Lopez
#DeleteUber was a proper response to the company's opportunistic attempt to attract business as the driving service ignored the bigger picture: the help necessary to ensure the well-being of travelers from the affected countries who may have difficulty entering and leaving the United States safely. Uber insists that the message was not an attempt to capitalize on the taxi drivers' strike, but a notification to users that the company would not be increasing prices at a time of high demand. This is not a strong enough defense; meanwhile, similar services such as local taxi drivers and Lyft suspended service throughout the protest. Uber is a billion-dollar company and can afford to stand with these companies in a critical period for many people throughout the nation. The taxi drivers of New York City identified with the cause, stating it was an "unconstitutional act of bigotry" and went on strike, encouraging drivers to join in the protest instead. Lyft went even further, releasing a statement that as a company they strive to create a "diverse, inclusive, safe community" and by Sunday morning had pledged to donate $1 million over the next four years to the American Civil Liberties Union (ACLU). This organization successfully fought for a stay of the ban and secured the release of refugees who had been stranded in transit.
"Lyft did the right thing in suspending service and donating money toward the American Civil Liberties Union because the protesters were at JFK for good reason and large companies should recognize the issue at hand and taken action as well," sophomore Keyshawn Felton said.
Many argue that Uber's action to turn off surge pricing would generally reduce drivers' incentive to head out to JFK and pick up passengers. The trouble is not about the pricing of the rides but that the tweet was shared just thirty minutes after the New York Taxi Workers Alliance had announced their one-hour stoppage of service. Uber's tweet could be seen as an undermining of the Taxi Workers Alliance's protest against the executive order.
Frustration with the company had not began with their continued service throughout the protest, as many Americans were upset about the CEO Travis Kalanick's close relationship with the President. While Kalanick has spoken out about the executive order, he has defended his position on Trump's advisory council. On this council he sits alongside CEOs of other popular companies, such as Elon Musk (CEO of Tesla) and Indra Nooyi (Chairwoman and CEO of Pepsi Co.). Kalanick defends his position on this economic advisory council by turning the other cheek to the many unconstitutional acts of the newly-inaugurated president, saying he will "partner with anyone in the world as long as they're about making transportation in cities better…"
Other responses to Uber's action against the protest come from well-known faces. Joining the movement against the corporation who capitalized on the protest. Celebrities like Modern Family star Jesse Tyler Ferguson and feminist comedian Lena Dunham shared their opinions through Twitter; encouraging their fans to join them in the trend to #DeleteUber. In addition, ACLU received over $24.2 million in donations and will continue to fight for the security of refugees while Uber continues to overlook the wrongdoings of President Trump.

About the Contributor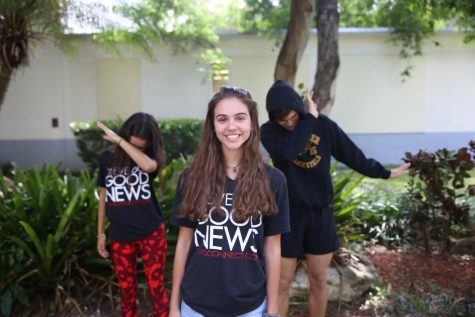 Emily Simon, Editor-in-Chief
Emily Simon is a senior in the International Baccalaureate (IB) program at Coral Gables Senior High. Serving as both the Features and Student Life editor...