The Game that Brought Tragedy to Jacksonville
Hang on for a minute...we're trying to find some more stories you might like.
On Aug. 26, 2018, Jacksonville's Gaming tournament turned into one of the most devastating days of the participants' lives. The players were competing for the chance to win an all-expenses-paid trip to Las Vegas, where they would have had the chance to play for glamorous prizes in Sin City's famous Madden Classic tournament. However, 24-year old David Katz had other plans that horrific day, killing two people and injuring 11 more with two handguns before taking his own life.
Witnesses are still dealing with the shock and trauma of living through the ordeal, as many ran for their lives that devastating day. "I'm still in shock, I can hardly talk," survivor Ryan Alenan said in an interview the day after the shooting. As soon as Alenan heard the gunshots, he went full survival mode, sprinting away from the scene as he watched bullets fly around him.
Katz was a former Madden champion who was no stranger to success in the gaming world. After winning several Madden tournaments in 2017 under the nickname 'Bread', he told former Buffalo Bills player, Steve Tasker, that he was the best player there. His peers described him as isolated and reserved, saying that he didn't communicate much with other gamers, either online or face-to-face at competitions.
The motive for the attack is unclear, although it is known that Katz lost his game immediately before the shooting. According to CNN, an announcer of the tournament believes one particular person was targeted because Katz was aiming at the first person to be shot with a red laser pointer.
"When a shooting occurs, I feel fear because that could happen to me or to someone I know. I think that the reason why it is still happening today is that the laws for selling firearms are very weak," freshman Kamilah Cespedes said. The police are in the process of checking the weapon found on the scene and searching the home of the perpetrator's father for evidence, although he was staying in a hotel room during his visit to Jacksonville. It is still yet unknown if Katz traveled alone, or if this attack was spontaneous or premeditated.
"It really hits me in the feelings when I put myself in the position of the victim or the victim's family. The fear that all you ever known, ever love will be gone in a matter of seconds is traumatizing. I don't understand why this is happening, I can't understand the mind of people with these feelings towards killing," sophomore Olbin Gil said.
The horror of that day was captured by an online stream of the event which prompted an immediate response on social media. The live stream was cut off partway through the shooting, but not too early for many eyes all around the country have seen what was going on. Many used it as an opportunity to call for stricter gun control, seeing as Katz was able to purchase the gun he used, as well as the laser pointer, legally and with a cleared FBI background check, despite his two-time hospitalization for mental illness.
In the meantime, the Jacksonville community is working to recover from their loss. Residents have turned the crime scene into a memorial as they mourn those taken from them and hope for an end to the pattern of senseless violence.

About the Writer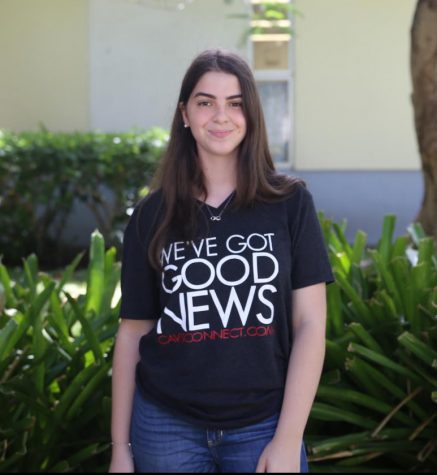 Melanie Estrada, Staff Writer
Melanie Estrada is an International Baccalaureate (IB) freshman at Coral Gables Senior High who is excited to be a part of CavsConnect as a staff writer....