The Superintendent's 5k Race for Education
Whether participants had trained for weeks or impulsively joined to support the cause, over 4,000 people signed up for the Superintendent's 5k race on March 4, at the Dan Paul Plaza at Downtown, Miami, selling out the tickets for the first time in the tradition's history. Held by the Foundation for New Education Initiatives, this 5 kilometer race was for runners of all ages, aiming to support schools around the county.
The new Miami-Dade County Public Schools Superintendent, Jose Dotres, teamed up with the FNEI to hold this marathon. FNEI strives to economically support public education by holding countless events every year such as the 5k, giving back 80% of the proceeds to schools in hopes of enhancing student achievement and community engagement. In this case, each school's profit was reliant on the number of participants each school brought out.
"This race is a tradition of mine that I look forward to every year. The course is pretty and the activities after are always so fun and entertaining, so it's definitely one of my favorite off-season 5k's to run," junior Catalina Quinteros said.
On Saturday morning, at approximately 7:30 a.m., the race commenced.  The course included a pathway through MacArthur Causeway, providing participants with a scenic view of the city. Packed to the brim with runners and walkers, the start of the race was very slow and crowded. Through the path, participants stayed in smaller groups, holding conversations and staying on pace through the paved roads and bridges of Downtown, Miami. 
Each school was represented by a team which was organized in advance to the event by a captain. Coral Gables Senior High's team captain was Ms. Lefebvre, responsible for getting athletes involved, distributing shirts and bibs and communicating with racing administrators. Having past experience, Lefebrve raced annually with her mother from her early years well into her adulthood. Keeping her family tradition alive, Ms. Lefebvre decided to take on a new challenge, approaching Principal Ullivari to begin a school team like she had seen her mother do in the past. After his acceptance, Lefebrve was deemed most fit, becoming Gables' team captain. 
"Initially, I got involved because my mom was a teacher for MDCPS and has been since I was in middle school, and she would drag me to go with her even when I was in college. And then when I started teaching, I had even more reason to go and learn to be the team captain myself," Ms. Lefebvre said.
After 3.1 miles, the runners swiftly approached the big finish line as their school chants and names were cheered by family and friends. Finishing their race, participants then walked through countless tents which provided food and recovery snacks. After about an hour of eating, listening to music and playing games, the remaining runners were called to the small stage to celebrate their awards and accomplishments.
"This was my first year running the superintendent 5k, and I felt really good. I think it was a great route that they came up with. The weather was great, and the atmosphere was even better. Overall, running with friends and teammates, and being able to enjoy organized events after was the most enjoyable way to spend my Saturday morning," senior Isabella Morales said.
From Gables, cross country runners, freshman Linus Boettcher, senior Isabella Morales and junior Catalina Quinteros received medals for their performances. Morales and Quinteros were neck and neck, placing first and second in the female 14-19 age group. Boettcher accomplished third overall, with a time of 19:49. Because of all Gables runners' participation, including Andres Rodriguez, Alex Pritchett and Florian Chevalier, Gables was able to raise money for the school, meeting FNEI's initial goal.
"Hopefully this can be a tradition that happens every year. There were some kids that signed up and others that wanted to but couldn't, so I tried to get some more people involved, and hopefully we'll have more support next year," Ms. Lefebvre said.
Concluding the day with a victory, participating athletes ran with their best foot forward in support of their school.  Representing their team and the athletic department at Gables, this new tradition is expected to continue through the encouragement of Ms. Lefebrve and student athletes alike.
Leave a Comment
Your donation will support the student journalists of Coral Gables Senior High School. Your contribution will help us cover our annual website hosting costs.
About the Contributor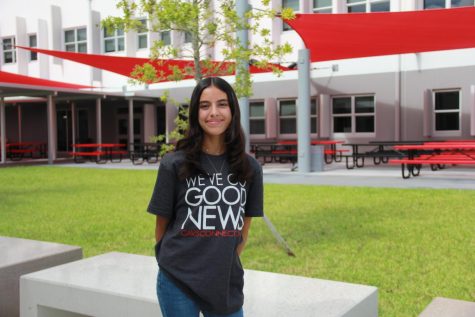 Avril Donner, CavsConnect Staff Writer
Avril Donner, a freshman in the International Baccalaureate program, is pumped to start her first year in CavsConnect as a staff writer. She strives to...