Senior Picnic: A Day of Fun in the Sun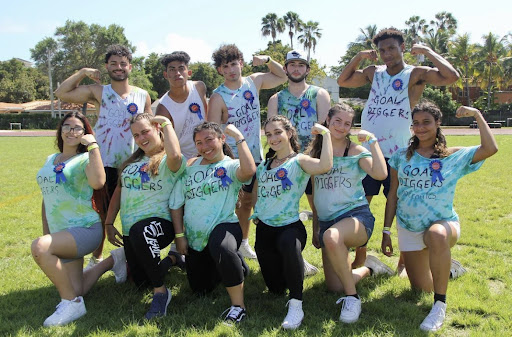 Donning team shirts and smiles, the senior class of Coral Gables Senior High School had their annual Senior Picnic on Mar. 11. Conducted in the auditorium and on the field, senior Cavaliers experienced activities like voting for superlatives, the traditional movie screening and a newly-instated Wacky Olympics.
Beginning the day at 7:15, all attending seniors met at the auditorium to watch "Spiderman: Far From Home", as voted on through an online poll. Before the movie, students were called up row by row to vote for class superlatives like 'Biggest Flirt' and 'Best Bromance'. The seniors cheered as their friends were called up for their awards. They were also offered "Senior Bucks," which featured an entire stand offering coffee and breakfast as a wordplay on Starbucks.
View this post on Instagram
"It was funny seeing everyone I know being called up for superlatives. I wonder who will actually become a teacher at Gables or who could become social media famous," senior Allison Cajina said.
After breakfast and the movie, the seniors were invited to the field where a Wacky Olympics would be held. The participating teams were each made up of 10 seniors in matching shirts. The teams were The Goal Diggers, Gables Allstars, The Avengers, Crew XL, Never In Class, Big Red, The Desperados, Mom Lovers and The 305.
The games in the Wacky Olympics included an obstacle course, hula hoop race, three-legged race and a balloon race. Each team competed individually and their times for each event added up to see who would compete in the final three. After all events, Gables Allstars, The Avengers, and Crew XL were in the top three and had to participate in each event again for the final face-off. After the second competition, the Gables Allstars received first place.
Around noon, the seniors took a break from the hot sun and cooled down with a Kona Ice from the food trucks that were on the field accompanied by lunch meals such as sliders, pulled pork sandwiches or chicken tenders.
After lunch, the teams prepared to compete once again in a tug of war tournament, matching up against one another based on their times in the Wacky Olympics, bracket style. Once a team lost, they would be knocked out and the winning team would move on. After three matches, the Goal Diggers celebrated their win on the field.
"It felt so good to win after not making it into the top three in the Wacky Olympics. We were all jumping around and screaming, it will always be a core memory for me," senior Kylie Alvarez said.
After the competitions were complete, the seniors headed towards the DJ situated near the tents and enjoyed the rest of the day eating their snacks and dancing to the music.