Welcoming Freshmen: Gables' 2021 Cav Camp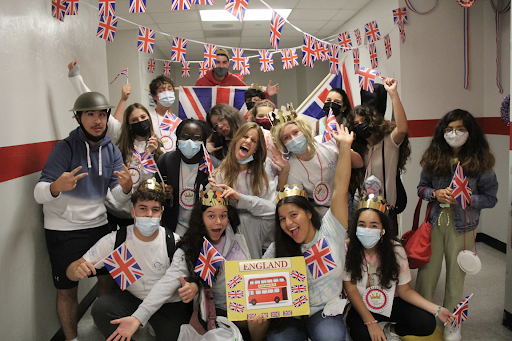 Last week, the International Baccalaureate Honors Society and National Academy of Finance student board hosted Cav Camp, a weeklong camp filled with activities to welcome incoming freshmen. NAF's freshman camp ran from Monday, June 14, to Wednesday, as they counted on a much smaller group of incoming Cavaliers, while the IB camp spanned the entire week, as they expected over 100 new students to attend.
Cav Camp is an annual event that takes place every June with the goal of making the incoming IB and NAF freshmen feel comfortable at Coral Gables Senior High before the following school year begins.
"It was an amazing experience to get to know the fellow freshmen and introduce them to Gables," senior Esperanza Barrios said.
Members of the Academy of Finance student board are in charge of organizing the three-day-long event. They organized icebreaker activities so freshmen could get to know other incoming 9th graders and their upperclassmen student leaders. They also played board games, met Academy of Finance teachers and took a tour of the school.
The IB version of Cav Camp is organized solely by the IBHS board members and sponsored by Ms. Noval, the psychology teacher and IBHS sponsor.
Students were grouped into either a country or a region such as England, the United States, Greece, Italy, East Asia, Africa, Latin America or South Asia. Each was led by three student leaders and had a homeroom class that was decorated according to their assigned geographic area. An IB teacher was also assigned to each classroom, where they gave students different projects which they worked on throughout the week.
Each activity was really a competitive event where each group can hope to score points. Students worked together to not only complete the assigned projects but also to build friendships that would carry them to the winner's title at the end of the week. The ultimate goal of each group was to be crowned the winner of all of Cav Camp. This winner is determined by compiling the scores of all the projects of each group, and the group with the highest total score wins.
The week began with students meeting their homeroom teachers and immediately working on an activity. English teachers Ms. Delgado and Ms. Vazquezbello worked with students to write letters to their future selves, which they would then put in their group's decorated time-capsule so that students may open them once in senior year.
Later, science teachers Mr. Molina and Ms. Phillips assisted students in building their team water bottle rocket, and the publication teachers, Ms. Gonzalez and Ms. Zuniga helped students brainstorm an artifact that showed the contributions made to science, technology engineering and math by each group's country or region. Mr. de Armas and Ms. Barrow helped campers create the skits that were then acted out on the auditorium's stage and short movies which were shown on the last day of Camp.
"With leadership from the student group leaders and the teacher helpers, it was evident that the rising freshmen were beyond comfortable with the environment here at Gables and felt welcome into their new school. From the water bottle rocket launch to the creation of the time capsules there was always something to look forward to, allowing for everyone participating to feel a sense of belonging and excitement. This year's Cav Camp was exhilarating for all those involved, making a truly wonderful experience compared to last year's setback," senior Lawrence Stampino said.
Other activities included a shirt tie-dyeing activity, multiple ice-breakers, a tour of the school and a scavenger hunt compiled of "Gables History" items, like the alma mater. A mini club fair was also held – student leaders represented different school clubs, sports teams and publications.
Both the incoming Cavaliers and the already Cavaliers had a blast at this Cav Camp. It was an eventful week in which 9th graders were introduced to the excitement of Gables, so that, on their first day of school, they feel like they already belong.